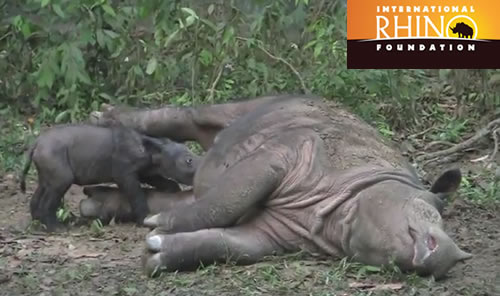 On Saturday, June 23rd, Sumatran rhino Ratu gave birth to her first calf, who has been named "Andatu", which means "Gift from God" in Bahasa, and is also a combination of his parents' names (Ratu and Andalas).
Andalas was born at the Cincinnati Zoo in 2001. Ratu wandered out of the forest in 2005 and was brought to the Sanctuary. The birth of Andatu helps ensure the future of Sumatran rhinos, which number few than 200 individuals living in Indonesia and Malaysia.
In order to keep Ratu to be as calm as possible, only Dr. Dedi Candra, SRS veterinarian and collection manager, Dr. Benn Bryant, veterinarian at Taronga Conservation Society Australia and Cincinnati Zoo keeper Paul Reinhart, who attended all three births at that facility, were allowed to be in the birthing area.
The International Rhino Foundation provided a closed-circuit television system to allow continuous monitoring of the birthing area, placing four moveable cameras around the birthing area, as well as hand-held cameras.
Dr. Susie Ellis, Executive Director of the International Rhino Foundation, was at the Sumatran Rhino Sanctuary for the event and watched the birth of Andatu via closed circuit television.
The little guy is absolutely adorable, and none of us has been able to stop smiling since the moment we were sure he was alive and healthy. We have been waiting for this moment since the sanctuary was built in 1998. The International Rhino Foundation is honored to play an important role in protecting rhinos. We are hopeful the Sumatran rhino population will thrive once again.
The big moment! Watch Andatu's birth:
Andatu nursing (Ratu is smiling contentedly!):
Andatu playing in water:
To help ensure that Sumatran rhinos are protected for future generations, visit the International Rhino Foundation website to make a donation.
---