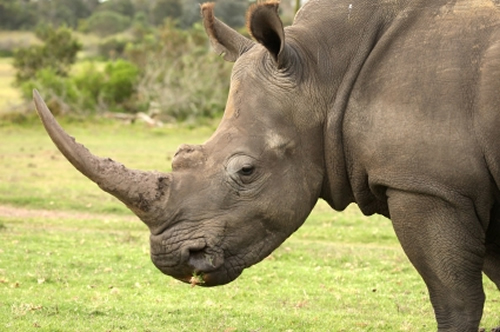 The preliminary results of an ongoing investigation by Education for Nature-Vietnam (ENV) suggest that a "strong desire to flaunt new money" may be more significant than the cancer cure myth in the current rhino horn craze.
Doug Hendrie, Technical Advisor to Education for Nature-Vietnam explains that the "new rich" are eager to display status symbols.
We call it the "Ferrari factor". The new rich want luxury goods that are rare, exotic, and expensive as indicators of their success. These values, in addition to the fact that rhino horn is supposed to be good for you, may be driving the surge here in Vietnam.
Hendrie refers to the "growing prevalence of expensive sports cars on the streets of Hanoi".
ENV's Wildlife Crime Unit interviewed doctors, pharmacists, cancer patients, and traditional Chinese medicine practitioners over a four-month period, and has also documented 41 cases involving "advertising, selling, trading or smuggling rhino horns to or within Vietnam".
While desperation-driven cancer patients do account for some rhino horn activity, the connection may not be as strong as previously thought.
A lot more interviews are required to get a better sense of direction on where this is going, but we have not yet found a strong cancer-linked demand for rhino horn. Our feeling is that the "mania" surrounding use of rhino horn in Vietnam is more likely linked to its perceived general health benefits. Certainly we will know more in the coming months.
"Perceived general health benefits" of rhino horn may include "balancing yin and yang", eliminating toxins, and "reducing hot blood". Traditionally, rhino horn was prescribed as a fever reducer, but its effectiveness remains unproven.
(See Rhino Horn and the Red Flags of Quackery.)
The investigation has also revealed that the majority of "rhino horn" on display in public is fake.
Real rhino horn is "sold in the shadows" like other illegal substances, such as narcotics.
If you want rhino horn, you talk to someone who knows someone, not skip down to the pharmacy.
Learn more about how you can help support ENV at Leading the Way: Vietnamese NGO Launches Rhino Horn Trade Awareness Campaign.
'Conspicuous consumption'
In similar findings to ENV's investigation, TRAFFIC East/Southern Africa's Programme Officer-Large Mammal Trade, Jo Shaw, writes that "habitual users" of rhino horn in Vietnam are "invariably wealthy, middle-aged, urban-dwelling elites who frequently use rhino horn as a detoxifying beverage and body-rejuvenating tonic".
Earlier this year, Associated Press published a chilling piece about rhino horn consumption in Vietnam by journalist Mike Ives. Here's the opening excerpt:
Nguyen Huong Giang loves to party but loathes hangovers, so she ends her whiskey benders by tossing back shots of rhino horn ground with water on a special ceramic plate.
Her father gave her the 4-inch brown horn as a gift, claiming it cures everything from headaches to cancer. Viet Nam has become so obsessed with the fingernail-like substance it now sells for more than cocaine.
"I don't know how much it costs," said Giang, 24, after showing off the horn in her high-rise apartment overlooking Ha Noi. "I only know it's expensive."
(And rhinos aren't the only endangered species being harmed by Vietnam's nouveau riche. Pangolins, bears, and snakes are also victims of "conspicuous consumption" at lavish parties hosted by Vietnamese VIPs.)
Of course, China's role as a rhino horn consumer and its attempts to market rhino horn as a cancer treatment and "farm rhinos for horns" (thereby creating yet another regulatory nightmare, i.e., "tiger farms" and a failure to control domestic ivory trade) should not be overlooked or otherwise swept under the rug.
However, the possibility that Vietnam's rhino horn trade is driven by a shallow desire for "conspicuous consumption" does make the pro-trade syndicate stance — "providing medicine" via a "legalized" rhino horn trade — even more unpalatable.
---
Source: Education for Nature-Vietnam
Image © iStockphoto.com