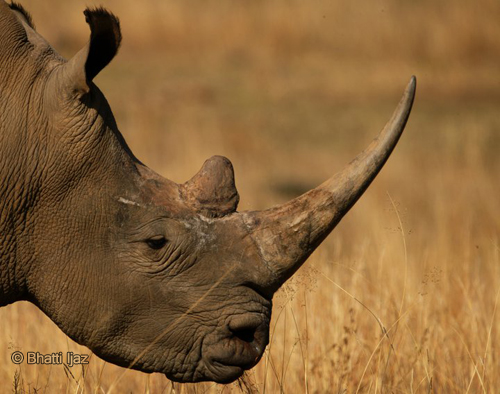 The arrest of yet another Vietnamese national highlights the ongoing connection between South Africa and Vietnam in the burgeoning rhino crisis.
Eyewitness News reports that South African police swooped in on an apartment in a posh suburb of Johannesburg's Bedfordview area late last night and arrested a Vietnamese national, after finding him in illegal possession of ten rhino horns, and an ivory elephant tusk.
Apparently, the suspect also had both US and South African currency valued at R20 million (more than US $2.4 million).
Vietnam is one of the world's leading consumers of rhino horn and numerous connections have implicated Vietnamese involvement in the illegal horn trade — particularly through abuses of legal loopholes in the trophy hunting industry.
Another Vietnamese national's case postponed (again)
Meanwhile, IOL.com reports that the criminal case against another Vietnamese national — who was arrested last month for attempting to smuggle three rhino horns out of the country at the OR Tambo International Airport in South Africa — has been postponed, once again.
The suspect, 25 year-old That Thai Dung, is expected to reappear in court on the 22nd of May.
The report claims the case was delayed this week because a translator was not available.
Other arrests of Vietnamese nationals
There have been a string of arrests of Vietnamese nationals for rhino crimes in South Africa over recent years, which have underscored serious concerns about trends in the illicit rhino horn trade.
Some of these include:
Interestingly, there has even been one case of a Vietnamese national being arrested (in 2006) after he was found in possession of both rhino horns and lion bones.
Today, there is mounting concern about the growing connections between the rhino horn and lion bone trade.
There have also been arrests of Vietnamese individuals in the US, who were allegedly operating some kind of rhino horn trafficking ring.
South African game industry involvement
It is now known that South Africa's game industry has played a significant role in supplying the horns to Vietnamese dealers and middle men, which has been enabled through the use of 'pseudo' trophy hunts.
Professional hunters have been charged with guiding inexperienced clientele on trophy rhino hunts — even going so far as shooting the animal for the "hunters", as they did not know how to do it themselves.
Professional hunter, Peter Thormahlen, was twice charged with illegally hunting rhinos for Vietnamese clientele and although he was minimally fine in one case, the other was dismissed by the court. Today, Thormahlen leads black rhino hunts for the owner of the world's largest private collection of rhinos, John Hume — an aspiring rhino horn venture capitalist and a leading advocate for the revival of South Africa's legal trade in rhino horn.
Another professional hunter, Christaan van Wyk, has also twice been convicted of the same charges — illegally hunting rhinos on behalf of his Vietnamese clients.
Shockingly, data from the Convention on International Trade in Endangered Species (CITES) indicates that South Africa has "legally" exported at least 241 rhino trophies and 175 rhino horns to Vietnam in the past 9 years — including 91 horns in 2010.
The ongoing links between the game industry and Vietnamese "trophy hunters" has prompted the South African government to take a closer look at the issuance of hunting permits.
Interestingly, the latest actions employed by the Ministry of Environment recently resulted in permits being denied for five Vietnamese "hunters" — much to the dismay of the safari operator who had taken them on as clients, who ultimately took action against the agency for their decision.
It's also worth noting that the problem now appears to be spreading to Namibia, where rhino poaching rates have been nearly none existent for several years.
The country recently authorized a permit for a Vietnamese national to "hunt" a rhino.
Read "Illegal Trade in Rhino Horn: the Vietnamese Connection" and "Mules Hunting Rhinos? Sinister Scam Unfolds in South Africa" for more information about the South African-Vietnamese horn trade.
Vietnamese NGO launches rhino horn trade awareness campaign
Thankfully, Vietnamese NGO, Education for Nature – Vietnam (ENV), is leading the nation's efforts to educate the public that rhino horn is not medicine.
ENV is producing two public service announcements about the black market trade in rhino horn — one focusing on the consumers and the other on horn smugglers.
The organization has conducted extensive research to compile an accurate consumer profile and clearly identify values associated with the use of rhino horn, so as to maximize the effectiveness of their campaign.
Read more about ENV's work here.
---
Image ©Bhatti Ijaz