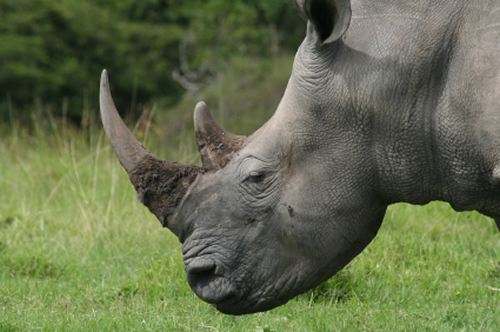 Additional details have emerged regarding 30 of the 100-plus live rhinos exported to China from South Africa.
According to South Africa's Parliamentary Monitoring Group website, 30 live rhinos were exported from Limpopo Province to China between 2007 and 2011:
2007: 10 rhinos to Wei Feng Tian by De Cai International
2009: 2 rhinos to Thai Skin & Hide by Thaba Manzi Nature Reserve*
2011: 2 rhinos to Zheng Zhou Zoo by De Cai International
2011: 16 rhinos to Kunming Game Reserve by De Cai International
("De Cai International" — 28 rhinos to China? And is something called "Thai Skin & Hide" really an appropriate destination for live rhinos?)
It is also interesting to note that in 2010, Chinese media reported the arrival of least 18 rhinos from South Africa. (18 is coincidentally the number of rhinos exported in 2011, according to the PMG.)
Indeed, these decisions to export rhinos to China (a rhino horn consumer country) in the midst of the rhino crisis seem questionable.
But wait, there's more.
Most recently, South Africa exported rhinos, lions and other wildlife to Dhaka Zoo in Bangladesh — despite the fact that 12 of the 27 animals South Africa sent to the same zoo in 2008 were dead within one year.
---
*Seven rhino horns were reportedly stolen in an armed robbery at Thaba Manzi in October 2010.
Image © iStockphoto.com