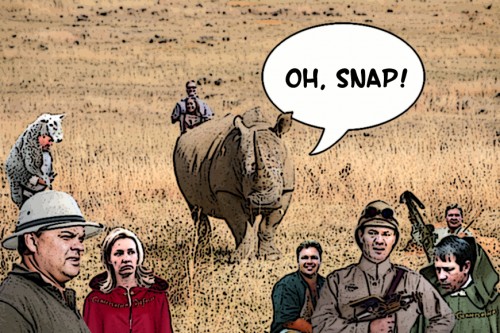 Nearly a year and a half after their arrest, South Africa's notorious 'Groenewald Gang' has managed to delay justice for the fourth time.
National Prosecuting Authority spokesperson, Mthunzi Mhaga, told Times Live that the case has been postponed until 19th October.
"The matter was postponed to October 19 to give the defence time to finalise their application on further particulars on the charges," NPA spokesman Mthunzi Mhaga said.
The eleven suspects – which include veterinarians, professional hunters, a helicopter pilot, and safari operators – are suspected of killing hundreds of rhinos for their horns.
They face a whopping 1,872 charges ranging from illegal rhino hunting to racketeering, permit violations, illegal trade in rhino horn, money laundering, and violating the Biodiversity Act and the Act on the Prevention of Organised Crime.
The 'Groenewald Gang' appeared in court in September 2011 after being slapped with a 637-paged indictment and a witness list of 185 names.
Striking resemblance to the 'Boere Mafia' trial
The 'Groenewald Gang' is only the second (suspected) rhino horn syndicate to have been brought to court.
The first – dubbed the 'Boere Mafia' – was postponed numerous times, before finally being 'struck from the roll' in late 2010.
Much like the 'Groenewald Gang', the 'Boere Mafia' involved safari operators and professional hunters – namely Saaiman Safaris' Gert Saaiman and Sandhurst Safaris' Clayton Fletcher.
Also like the Limpopo eleven, most of the suspected syndicate members were released on bail.
Only two were denied bail and they are the same two that are the only 'game-industry white guys' accused of rhino crimes that have actually been imprisoned (although both received reduced sentences).
Their case was ultimately thrown out of court on the grounds that the charges unjustly stemmed from arrests made four years earlier and that the prosecutor's litigation was largely based on the questionable testimony of a convicted felon (one believed to be an accomplice of the crime ring who seems to have been intimidated into not testifying).
According to Eyewitness News, the presiding judge also said that the case had gone on long enough to negatively impact the suspects' social life.
The judge said they are losing their social standing because of delays caused by a man in prison.
Business as usual
Despite the apparent mountain of evidence against them, many members of the 'Groenewald Gang' appear to have returned to 'business as usual'.
In fact, alleged syndicate mastermind, Dawie Groenewald, was issued three times as many permits (44) to hunt, convey, import and/or export white rhinos within the first six months following his arrest than the total number (11) he was granted in the almost two years leading up to his being nabbed by authorities.
The veterinarians accused of being involved in the rhino horn syndicate, Karel Toet and Manie du Plessis, have also been back to the grind – apparently even conducting relocations of the very animals they are accused of murdering.
Rap sheet
Groenewald's personal rap sheet runs back many, many years – even back to his early days as a former police officer, when he was apparently fired for his involvement in a stolen vehicle smuggling ring.
In early 2010, the man was convicted of a felony in the US for illegally importing a leopard that was unlawfully hunted in South Africa four years prior.
Just after their arrest, popular South African television news show, Carte Blanche, linked the veterinarians to a disturbing attack on a critically endangered black rhino named 'Phila'.
Then a mass grave containing at least 20 hornless, mutilated rhino carcasses was unearthed on the Groenewalds' 'Pragtig' farm in Musina.
It was later learned that Groenewald had purchased at least three dozen rhinos from the Kruger National Park between June and July 2009; however, there also appears to be some discrepancies with the numbers and types of permits that were issued to the suspected rhino horn kingpin around that time.
All of the eleven suspects arrested in 2010 were released on bail, with Groenewald's set at a record R1 million (over US $132,000).
His bail amount was later reduced by 90% and although all had to forfeit their passports to the state early on, it appears those have since been returned to the suspects.
Although a total of thirteen suspects were arrested in connection to this case in 2010, charges against two individuals — Leon van der Merwe and Josef Maluleke — were dropped at their last court date.
The eleven now await their fifth court appearance, which is scheduled to take place just after the third anniversary of their arrests.
Meanwhile, at least 181 rhinos have been slayed for their medicinally useless horns in South Africa in the first 113 days of this year, following the record 448 that were killed in 2011.
---
Image: ©Saving Rhinos