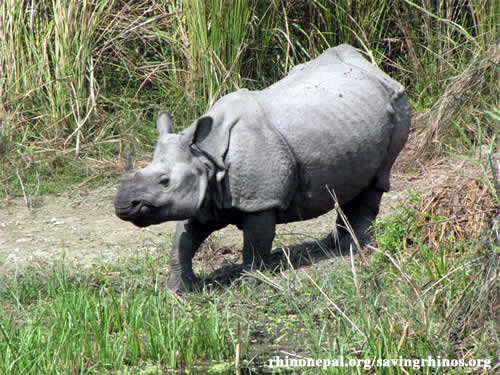 For the second time this month, Nepal's Central Investigation Bureau has successfully nabbed a gang of rhino horn racketeers.
According to The Himalayan Times, Ram Bahadur Gurung and Keshav Bahadur Rokka of Dhading, Rudra Bahadur KC of Myagdi, and Krishna Bahadur Dhital of Gorkha were arrested "as they were on their way to find prospective clients".
Authorities confiscated a rhino horn from the gang.
Under Nepal's National Parks and Wildlife Conservation Act 1973, the suspects could face up to 15 years in prison, plus heavy fines, for killing and trading in endangered species.
In Nepal, court delays and postponements for rhino-related crimes are usually avoided because the cases are handled directly by the divisional forest office.
The country has a history of administering serious punishments for rhino crimes.
Last week, two rhino horn traders were busted in Kathmandu.
Nepal enjoyed an entire calendar year of no rhino killings, until tragedy struck earlier this month: A female rhino was found dead, with her horn missing, in Chitwan National Park.
Greater one-horned rhinos in Nepal
One of the three Asian rhino species, greater one-horned rhinos (Rhinoceros unicornis) were once widespread throughout the northern floodplains and nearby foothills of the Indian sub-continent between Indo-Myanmar border in the east, and Sindh River basin, Pakistan in the west.
Nepal's most recent rhino census found that the population of greater one-horned rhinos has increased to 534. The count was conducted in April 2011, and revealed an increase of 99 rhinos since the last count in 2008.
Chitwan National Park was found to have 503 rhinos, while 24 reside in Bardia National Park, and Shukla Phanta Wildlife Reserve holds seven of the precious pachyderms.
Today, greater one-horned rhinos are found only in a few protected areas in northeastern India and lowland Nepal.
Traditional medicine myths continue to threaten rhinos
Although the greater one-horned rhino population is steadily increasing, these rhinos remain under threat of being killed for their horn.
Despite the fact that extensive scientific analysis has confirmed that rhino horn has no medicinal value, myths about rhino horn persist throughout China and Vietnam, where rhino horn is considered a key ingredient of traditional Chinese medicine.
---
Photo © Partnership for Rhino Conservation Nepal/Saving Rhinos