Groenewald's rhino permits raise more questions than answers.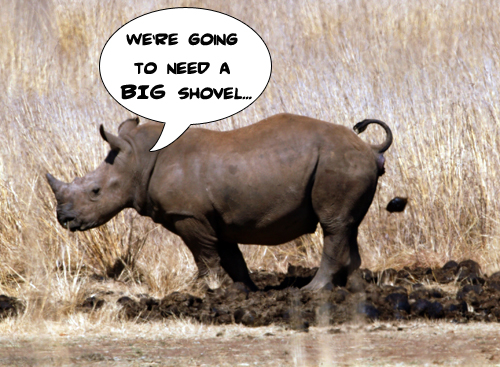 International outrage was sparked last year when the public learned that permits to hunt, convey, import, and export white rhino had continued to be issued to alleged crime syndicate kingpin, Dawie Groenewald, after his arrest for suspected rhino crimes almost a year earlier.
Groenewald, his wife, and nine other individuals were arrested in late September 2010 and face 1,872 charges that include racketeering, illegal rhino hunting, permit violations, illegal trade in rhino horn, money laundering, and violating the Biodiversity Act and the Act on the Prevention of Organised Crime.
Information made available to the public illustrates some quite concerning trends in his permit activity, as well as what appears to be some significant discrepancies in the number of permits issued to him.
Judge formally questions permit-issuing body
In July 2011, Africa Geographic magazine posted on their Facebook page a document containing questions asked of the South African Department of Economic Development, Environment and Tourism by the Honourable D. van der Walt.
The inquisition revolved around Groenewald's permit activity over the nearly two and a half years prior and included an inventory of all permits to hunt, convey, import, and export wildlife that were issued to the Limpopo-based game farmer by the Department.
According to the document, a total of 102 permits were issued to the suspected criminal between 1 January, 2008 and 11 March, 2011 – including 55 pertaining specifically to white rhinos.
A single permit may enable an activity to be carried out for more than one animal belonging to a particular species.
Those consigned to Groenewald between January 2008 and March 2011 appear to pertain to a total of 84 white rhinos.
More rhino permits issued after arrest than before
According to the information provided by the Department, more permits were issued to Groenewald for white rhino trade and hunting activities in the six months after his arrest than the total number issued in the nearly two years leading up to it.
Between 2008 and September 2010, it appears only eleven white rhino permits were issued to him – including two in both 2008 and 2009 and seven in 2010.
In the six months following the Out of Africa Adventurous Safaris owner's bailed release, he was allotted a total of 44 white rhino permits – all of them within the first three months of 2011.
The reason for the significant increase in the number of permits issued to Groenewald after his arrest is unclear.
However, it is possible that his permit activity was more closely monitored due to the criminal allegations made against him.
Dramatic increase in permits to convey and hunt white rhinos
The document also indicates that, although the game farmer had not received any permits to hunt white rhino between 2008 and 2009, he was given seven such permits in 2010 (in the months preceding his arrest).
That number rose sharply to a shocking total of 18 for just the first three months of 2011.
A similar trend was observed with respect to permits for conveying white rhinos.
Only a single such permit was allotted to him in each of 2008 and 2009, followed by zero in 2010 and a whopping 18 in 2011.
Between 2008 and 2010, he was apparently not issued any permits to export rhinos – but he was granted at least two in 2011.
Interestingly, Groenewald was consigned only a single permit to import white rhinos in both 2008 and 2009, but did not receive any others in 2010 nor 2011.
Permits missing from Department's 2008-2011 inventory
A document* published by the Parliamentary Monitoring Group (PMG) details at least some white rhino transactions between 2007 and 2010.
These records suggest that some permits may not have been recorded in the information provided by the Department last year.
The PMG file indicates that five rhinos were delivered to Dawie Groenewald in 2010; however, the only permits the Department claims to have issued to him that year were seven permits to hunt white rhino – not import them.
The transaction records also demonstrate the game farmer's apparent purchase of at least 43 white rhinos in 2009 through a total of three transactions – one of the purchases was made by his alleged veterinary accomplice, Dr. Karel Toet.
Yet the Department's information shows that only two white rhino permits were consigned to Groenewald that year: one for conveying a total of eight animals and another to import four.
Additionally, the safari operator was said to have purchased 36 rhinos from South Africa National Parks (SANParks) between June and July 2009, but the only two permits he received that year account for a total of just twelve rhinos.
One of the permits was granted in March for conveying eight of the pachyderms, while the other (for importing four of the animals) was issued in May.
Both required the specified activities to be completed within one month's time (from the date of issuance).
While his auction purchase of four white rhinos seems to be reflected in the Department's data by the one import permit, it would seem that Groenewald may have imported 39 rhinos without permits.
Of course, it is also possible that there may have simply been some sort of clerical error in the Department's record-keeping.
Finally, the PMG document illustrates that the suspect obtained eleven white rhino in 2008 via three separate purchases – including six from the owner of the world's largest private rhino collection, Mpumalanga's John Hume.
However, the Department recorded only two permits being issued to Groenewald that year – one to transport a single rhino and the other to import an unidentified number of rhinos.
Permits for other animals
In addition to rhino permits allotted to the owner of the 'Pragtig' game farm between 2008 and April 2011, he was also granted 47 others to hunt, convey, import, or export a variety of wildlife.
These include:
19 for baboons
5 for tsessebe
3 each for civets, African wild cats, and crocodiles
2 each for hornbills, leopards, roan antelope, sable antelope, servals, and Sharpe's grysbok
1 for a 'buck' and 1 for a vervet monkey
Some permits were issued for more than one animal at a time (e.g. one permit to convey 20 crocodiles) and others did not specify the number covered by the permit, but most were for a single individual.
Note: Of the two authorizing Groenewald to conduct leopards hunts (one granted in 2009 and the other in 2010), neither seem to account for the illegally hunted and exported leopard that led to his April 2010 felony conviction in the US.
SANParks halts permits to Groenewald
In July 2011, Times Live reported that "at least 50 white rhino sold by SA National Parks in the past four years have ended up in the hands of alleged rhino horn smuggling kingpin Dawie Groenewald."
South Africa National Parks (SANParks) spokeswoman, Wanda Mkutshulwa, told the newspaper that most had been sold to the man before his arrest.
She said the 58 white rhino that Groenewald bought were sold to him "before any criminal charges were placed against him" and that the whole industry should not "be tarnished by the actions of a few rogue individuals".
Another Times Lives article said that recent discoveries regarding suspicious transactions led SANParks to deciding not to issue anymore permits to the suspect.
"When delivery was supposed to happen, we were informed that these rhinos were not going to the farm that we approved . they were actually going to Groenewald," said Mkutshulwa.

"We decided to halt everything. Groenewald had been rejected by SANParks as a buyer because he doesn't meet the criteria to buy rhinos from us."
The 'Groenewald Gang'
The eleven individuals who comprise the now notorious 'Groenewald Gang' include veterinarians and their assistants, professional hunters, a helicopter pilot, and a farm worker.
The group is believed to have killed hundreds of rhinos for their medicinally useless horns and shortly after their September 2010 arrests, a mass grave containing at least 20 mutilated rhino carcasses was unearthed at the Groenewalds' 'Pragtig' farm property.
A 637 page indictment detailing their charges and a witness list 185 names long were presented to the court in September 2011.
Since their arrests and bailed releases, Dawie Groenewald's record-breaking R1 million bail (US $126,603) has been reduced by a shocking 90%, passports were returned to two of the professional hunters so that they may travel to hunting expos in the US, all passports were later returned to the eleven so that they could vote, and much like their alleged leader, the veterinarians appear to have returned to 'business as usual'.
After their trial being postponed three times over the past year and a half, the 'Groenewald Gang' is expected to appear in court for the fourth time on 24 April.
---
*Some transactions detailed in the document indicate sales to a "D. Groenewald" and a "Mr. Groenewald". It is possible these names could refer to individuals other than Dawie Groenewald, who has previously been arrested for alleged rhino crimes.
Image: ©Bhatti Ijaz (altered by author)