Safari operator, Dawie Groenewald, and his ten suspected accomplices are due to reappear in court in less than two weeks for charges stemming from their alleged operating of a large-scale rhino horn syndicate.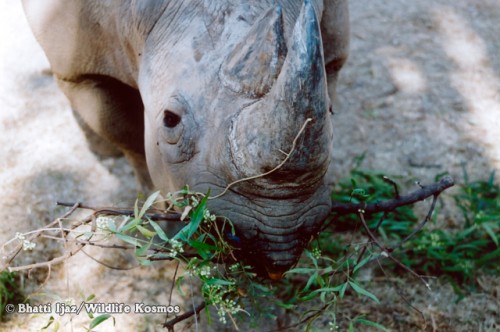 More than a year and a half after their arrests, the fourth court appearance is fast approaching for a notorious South African rhino horn syndicate dubbed the 'Groenewald Gang'.
Thought to be responsible for killing hundreds of rhino for their horns, the group includes veterinarians, professional hunters, helicopter pilots, and a well-known safari operator and his wife – who are thought to have masterminded the criminal operation.
After their previous court appearance in September of last year, a Beeld article by Julian Rademeyer reported that their trial had been postponed until 24 April and would most likely be moved to the High Court in Pretoria.
1,872 charges, 637 paged indictment, 185 witnesses
According to the report, at their last court date in September of 2011, the 'Groenewald Gang' was met with a formal list of 1,872 charges, a 637 paged indictment, and a witness list 185 names long – all in connection with their suspected crime ring.
Their charges include racketeering, illegal rhino hunting, permit violations, illegal trade in rhino horn, money laundering, and violating the Biodiversity Act and the Act on the Prevention of Organised Crime.
Charges against Limpopo businessman, Leon van der Merwe, and farm hand, Josef Maluleke, were dropped, reducing the group of suspects in the case to eleven.
The case was postponed for the third time.
Bail reduced by R900 000
Following their April 2011 court appearance, prime suspect and Out of Africa Adventurous Safaris owner, Dawie Groenewald, was shockingly granted a 90% reduction in his bail amount – down to R100 000 from a record-setting R1 million (the highest ever set in South Africa for a rhino crime).
This, despite reports from prosecuting attorney, Joanie Spies, that Groenewald had been sending her threatening and menacing messages through his connections and had interfered with the ongoing investigation.
The judge's decision came only days after the case had been postponed for the second time, due to the ongoing investigation.
Passports returned
Afrikaans newspaper, Volksblad reported in December 2010 that passports – which had been seized from all of the accused when they were determined to be a potential 'flight risk' – were returned to two of the suspects on special conditions.
Professional hunters, Tielman Erasmus and Gys du Preez, requested their passports be returned so that they could attend hunting expos in the US, where they planned to solicit more clients.
Their request was granted by the court under the conditions that they:
Pay a fee of R20 000 (over US $2,530) each; and
Promptly return their passports to the State within three days of their arrival in South Africa
At their April 2011 court date, the 'Groenewald Gang' requested their passports be returned so that they may vote in upcoming elections and their motion was not opposed, according to Kruger2Canyon.
Bomb dropped on World Rhino Day
The world was stunned when ten of the individuals were first arrested in September 2010, with many in utter disbelief that veterinarians could actually be involved with such brutal crimes against animals.
They made their court debut on the first ever World Rhino Day, where they were all released on bail ranging from R5 000 (US $633) to the later-reduced R1 million (about US $126,603).
The eleven standing trial today include:
Dawie Groenewald: Owner of Out of Africa Adventurous Safaris (OoAAS) and suspected crime ring mastermind
Sariette Groenewald: Dawie's wife and manager at Valinor Trading 142, thought to have supplied the syndicate with a helicopter
Karel Toet: Wildlife veterinarian
Mariza Toet: Karel's wife and veterinary assistant
Manie du Plessis : Wildlife veterinarian
Jacobhus Martinhus Pronk: Veterinary assistant
Tielman Erasmus: Professional hunter
Nardus Rossouw: Professional hunter
Gys du Preez: Professional hunter
Dewald Gouws: Helicopter pilot
Paul Matomela: Farm hand
Hoarding rhinos and hiding their mutilated bodies
Following the September 2010 arrests, Kruger National Park was exposed for selling 36 rhino to Groenewald over the span of two months – often by way of veterinarian, Karel Toet.
A later search of the Groenewald's 'Pragtig' farm in Limpopo unearthed a mass grave containing at least 20 hornless rhino carcasses.
At the time, 32 rhinos were found alive on the property, but the suspect – locally dubbed the 'butcher of Pragtig' – claimed he had as many as 80 rhino in his possession.
Yet, despite the mountain of evidence against the suspects, most appear to have returned to 'business as usual'.
---
Image: ©Bhatti Ijaz