Is the attempt to gather support for a 'legal' trade in rhino horn a solution — or just a long-standing agenda?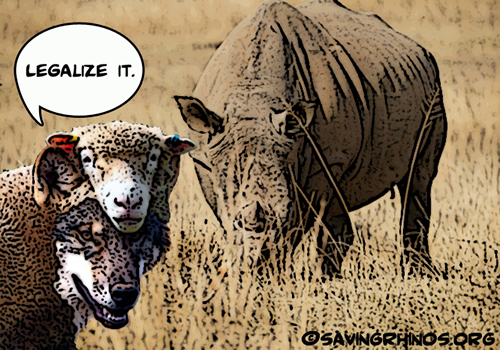 Although the notion of "legalizing" the trade in rhino horn has recently been touted as a "solution" to the rhino crisis, it turns out that the same agenda was proposed 15 years ago — during a year when four rhinos were killed in South Africa.
At the Tenth Meeting of the Conference of the Parties to CITES in 1997, South Africa's pro-trade syndicate* (PTS) sought to expand its Southern white rhino trade from "international trade in live animals to appropriate and acceptable destinations and hunting trophies" to include rhinoceros "parts and derivatives".
Despite trade in rhino horn being banned internationally in 1977 and China banning its use in traditional Chinese medicine in 1993, the PTS wanted to seek "support for open and transparent discussions with practitioners of traditional Chinese medicine concerning the possibility of a limited, tightly controlled trade in rhinoceros horn", using the argument that this would "generate funds for conservation and reduce incentives for illegal trade".

However, it was determined that South Africa lacked "adequate control mechanisms" for a legal trade — even at a time when illegal killing numbers were declining and continental rhino populations were rising.
Proposal rejected — twice
South Africa's proposal was ultimately rejected at the 1997 Conference of the Parties, when it twice failed to gain the required two-thirds majority vote.
After losing in the initial standard vote (60 in favor, 32 against) , South African delegates then demanded a controversial "secret ballot" vote.
Ironically, the secret ballot resulted in 50 votes in favor and 48 against.
By 1998, the WWF determined that "the mid- to late-1990s have signalled a changing tide for Africa's rhinos as poaching has notably declined."
Same agenda, new name
The opposition towards South Africa's 1997 proposal revealed concerns about the country's ability to manage a legal trade and the potential effect that the additional market would have on other rhino range states.
These concerns included:
The lack of adequate control mechanisms for a legal horn trade
Annotating appendices
Southern white rhino populations outside South Africa had not yet recovered to acceptable levels
The potential for the amendment to undermine the progress made in reducing demand for rhino horn
The recent (2008 — 2012) escalation in rhino killings in South Africa seems to have resuscitated the PTS agenda, which they have renamed a "poaching solution".
But several issues remain inadequately addressed by this scheme.
Let's take a look.
Rhino horn laundering and stockpiles
South Africa currently has only a tenuous grasp (at best) on its existing legal trade in rhinos, as evidenced by the arrests of game farmers, professional hunters, veterinarians, and safari operators who have been caught abusing their privileges.
And while the tiresome call to sell South Africa's private and state-owned rhino horn stockpiles is repeatedly dusted off and trotted out as a stopgap measure, the stockpile situation exemplifies a serious "lack of control mechanisms" — particularly regarding the private sector.
These suspicions seem to have cropped up thirteen years ago, when the issue was highlighted in a 1999 report from the IUCN African Rhino Specialist Group (AfrRSG).
Concern has also been expressed about the adequacy of the control and registration of horn stocks in South Africa, especially those in the private sector.
The nation's CITES documentation shows that private stocks have been assessed for only four of nine provinces, with no information to date on those in the Free State, Eastern Cape, Northern Cape, Western Cape, and Mpumalanga.
(Mpumalanga coincidentally is home to what has been called the world's largest private collection of rhinoceroses.)
According to experts, these five provinces together hold some 20% of all privately owned rhinos in South Africa.
Two failed attempts to audit the privately owned stockpiles between 2007 and 2008 apparently ended in criminal investigations, according to the 2009 report on African rhinos to the CITES Secratariat.
While investigations following these audits are ongoing, it is not clear whether any legal action will result.
In 2009, the AfrRSG estimated that an average of at least 50 horns had been illegally sold into the black market every year since 2006.
That number is likely to have increased substantially since then and yet the amount of South Africa's privately owned rhino horn stockpiles remain largely unknown even today.
Neighboring populations and Asian rhino species
The PTS consistently fails to address the impact that South Africa's proposal would have on rhinos in other range states.
In fact, the existence of the three Asian species — greater one-horned, Javan, and Sumatran rhinos — is rarely, if ever, acknowledged by those who are seeking to legitimize South Africa's role as a rhino horn supplier.
Asian rhino populations might not survive the onslaught of an even larger market for rhino horn.
For example, in the case of China's continuing attempts to have its illegal tiger farms legitimized, expert opinion from the IUCN and SSC Cat Specialist Group concluded that "products from farmed animals as well as supply from wild populations are on the market [demonstrating] that in many cases demand for wild animals has increased rather than decreased".
Commercial use of tiger products in China is only one threat to the survival of the tiger in the wild; but it carries a very high potential of negatively affecting the wild populations not only in China but, more importantly, in neighbouring countries, if it were to drive poaching and illegal trade.
It is noteworthy that a comprehensive report on the status of African and Asian rhinos prepared for CITES in 2009 confirmed that "trade developments in South Africa" were already stimulating the demand for rhino horn in traditional consumer states.
Whilst the impact on national rhino numbers is still minimal, rhino horn trade developments in South Africa have been the principal driving force behind the resurgent rhino horn trade in Asia, most notably in Viet Nam and, to a lesser extent, China.
Demand reduction
One of the first steps of demand reduction is awareness regarding the use of rhino horn in traditional Chinese medicine. Significant progress is being made in generating awareness and the mixed message of legal trade would undermine decades of efforts to educate end users and reduce demand for rhino horn.
Recognizing the link between rhino horn use and rhino killings, the President of the American College of Traditional Chinese Medicine (ACTCM) and Council of Colleges of Acupuncture and Oriental Medicine (CCAOM) released a statement in 2011 opposing the use of rhino horn in medicines.
In March 2012, the Vietnamese NGO Education for Nature-Vietnam launched a rhino horn trade awareness campaign which will produce two public service announcements for national TV. One PSA is targeted towards rhino horn consumers and the other towards rhino horn traffickers.
Health risks
Additionally, encouraging the use of rhino horn is harmful to people who would otherwise seek medical attention.
In 2011, a woman in Hanoi became sick after consuming a rhino horn mixture to treat a rash around her mouth. She reportedly paid a large sum of money for the "treatment" – and then ended up in Bach Mai Hospital when her symptoms worsened.
From CITES (CoP15 Doc. 45.1):
It is despicable that criminals are financially exploiting sufferers, and their relatives, at a time when they will be struggling to cope with distressing and sometimes terminal medical conditions.
It is deeply troubling that potential health risks are discarded in favor of financial gain.
(A 2001 survey of private rhino owners published in Pachyderm found that "financial benefits rather than conservation principles appeared to drive white rhino management" and 79 percent of the respondents were "keen" to sell their rhino horn stockpiles. It seems little has changed during the past 11 years.)
Motivation?
While improved (radically improved) measures for rhino trade monitoring and stockpile management would be most welcome (and long overdue), it seems there is interest in such improvements only as it relates to the PTS agenda.
Indeed, this observation was made at a workshop facilitated by the Endangered Wildlife Trust in March 2011.
Concern was however raised by some conservation NGOs that the only reason there is a call to put systems in place is in order to legalise trade and that these measures should be implemented regardless of a legalised trade being assured or not.
Rhino numbers rising
The PTS and their supporters would like the public to believe that if we do not accept their plan, rhinos will go extinct.
However, since the ban on rhino horn trade has been enacted, African rhino populations have increased overall.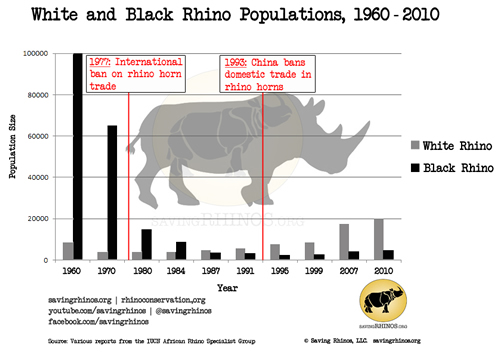 If there is anything positive to come of this crisis, then perhaps it is that South Africa's bad apples, dirty players, and rhino horn dealers are being rooted out, identified — and hopefully, punished to the full extent of the law.
Co-authored with Sarah Pappin.
---
*The group lobbying for legalized horn trade (along with similar bodies pushing for legalized ivory trade and whaling) in 1997 was dubbed the "pro-trade syndicate" (PTS) in a media briefing paper by Greenpeace: It is often hard to tell what groups and individuals are behind the (nominally) non-governmental pro-trade lobby. By using legitimate arguments about the need for poorer countries with many wildlife species to conserve their wildlife in ways that involve and work for local people, they cloak their profit-centred agenda for trade liberalisation.
Sources:
Dublin, H. and A. Wilson. 1998. "The Fight for Survival: Four Decades of Conserving Africa's Rhinos," WWF International, Gland, Switzerland.
T. Milliken, et al. "African and Asian rhinoceroses — Status, Conservation, and Trade." A report from the IUCN Species Survival Commission (IUCN/SSC) African and Asian Rhino Specialist Groups and TRAFFIC to the CITES Secretariat pursuant to Resolution Conf. 9.14 (Rev. CoP14) and Decision 14.89, November 2009.
Castley, J.G. and A.J. Hall-Martin. "The status of the southern white rhinoceros (Ceratotherium simum simum) on private land in South Africa in 2001." Pachyderm No. 34. January — June 2003.
"Cat Specialist Group opinion to China's domestic tiger trade policy review." IUCN/SSC Cat Specialist Group (2007)
"Perspectives on Dehorning & Legalised Trade in Rhino Horn as Tools to Combat Rhino Poaching." 1 – 3 March 2011. Workshop Report. Convened by Endangered Wildlife Trust. Sponsored by The South African Mint Company.