For the first time in almost six years, two South African 'game-industry white guys' suspected of leading a rhino horn syndicate have been denied bail.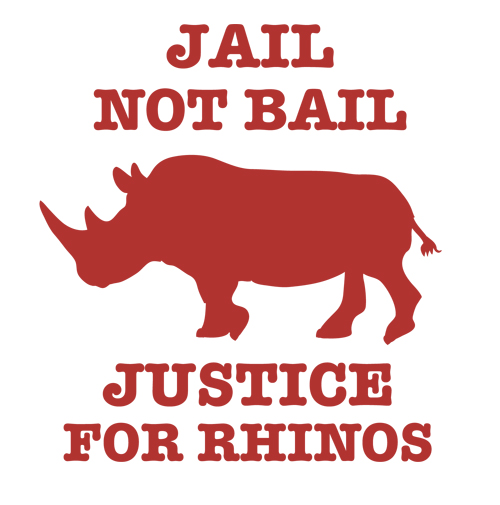 Unlike the majority before them, a KwaZulu-Natal game farmer and his alleged cohorts will not be released on bail — for now.
DailyNews reports that Magudu Magistrate's Court has denied bail for KwaZulu-Natal game farmer, Evert Potgieter, his suspected crime partner Riaan Vermaak, and their alleged accomplices — Dumisane and Nkosinathi Sithole — for charges stemming from their interrupted plans to slaughter rhinos for their horns.
'Game-Industry White Guys'
In a recent Business Day article, TRAFFIC's Dr. Tom Milliken (an expert on rhino horn and ivory trade) explained that targeting 'game-industry white guys' are key to reversing the concerning plight of the rhino.
But the proof in the pudding will be if those South African game-industry white guys who are involved in rhino crime get similar sentences. Then we'll start to see things turned around.
Of the hundreds of arrests related to rhino crimes made to date, fewer than 40 such 'white guys' have been arrested in connection with rhino crimes since 2006 — and only two have been jailed.
Four denied bail in six years
Shockingly, over 90% of those individuals have been released on bail and it seems most have simply returned to 'business as usual'.
Apparently, this won't be the case for Potgieter and Vermaak, who are now the third and fourth 'white guys' to have been denied bail since 2006.
Rhino hitmen, brothers Gideon and Nico van Deventer, were the last to be refused such privileges — almost six year ago.
In fact, Gideon had been arrested for killing more rhino while he was out on bail for earlier selling freshly hacked horns to middleman, Johannes Pieter Swart.
The brothers are the only 'white guys' to have been jailed for such crimes since 2006, but both of their prison sentences were ultimately reduced.
Even Dawie Groenewald — alleged mastermind of a syndicate believed to have killed hundreds of rhinos — was granted a record R1 million (around US $132,200) bail.
The amount was later reduced by a shocking 90%, despite the discovery of a mass grave containing at least 20 hornless rhinos at his Musina farm property several months prior.
Although another game industry insider (Jacques Els) has received a jail sentence for illegally trading in rhino horns, the penalty seems to have been suspended pending an appeal from the defense team, who has also submitted another bail application for the defendant.
'Dangerous' individual has a violent criminal history
Apparently, Potgeiter has received "suspended sentences" for several charges laid against him over the past eleven years — including attempted murder, assault, illegal game hunting, and theft of livestock.
Testifying Warrant Officer, Jean-Pierre van Zyl-Roux, warned the court against granting bail to the game farmer, as he is a 'dangerous' individual and admitted to wanting to shoot someone in the head to see what it would look like.
Van Zyl-Roux also suggested that granting bail to Potgeiter could also lead to even more rhino carnage.
Poisonous
Among the myriad of illegal firearms, marijuana, suspicious maps, and endangered cycad plants reportedly seized from a KwaZulu-Natal game farmer earlier this month, authorities also apparently confiscated unknown amounts of 'Temik' (also called 'aldicarb' and 'two steps').
The chemical is marketed as a pesticide, but is lethal to wildlife even in small doses and has been illegally used to kill animals.
Rhino horn plunderers have used it to kill the pachyderms and to hide crime scenes by poisoning scavengers (particularly vultures, which are imperiled).
Officials also seized Temik-tainted meatballs from Potgieter's vehicle.
Conspiracy to kill
The game farmer and his suspected cohorts have been charged with conspiracy to kill ten rhino at Mkuze Falls Private Game Reserve and attempting to illegally hunt rhino.
Potgieter and Vermaak are additionally charged with possession of stolen property and unlicensed firearms and ammunition.
The four are expected to reappear in court on 26 April — two days after the notorious 'Groenewald Gang' trial is scheduled to begin (again).
---
Image ©Saving Rhinos, LLC.