A game farmer arrested on suspicions of heading a rhino horn syndicate could be very dangerous if released on bail.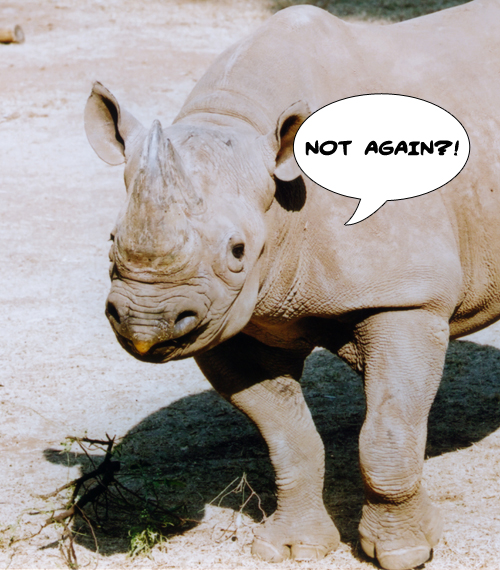 In the case against yet another member of the game industry suspected of heading a rhino horn syndicate, a law enforcement officer warns the court about the potential consequences of granting bail to a man with such an extensive criminal background.
According to a DailyNews article, KwaZulu-Natal game farmer, Evert Potgieter, has somehow managed to escape justice on numerous concerning charges that include assault and even attempted murder.
He also reportedly told an officer that he wanted to "shoot someone in the head to see what it would look like".
Still in its early stages, the case already has some interesting similarities that have been observed in current and past cases against game industry insiders suspected of rhino crimes.
Repeat offender
The DailyNews reports that Potgieter, has received "suspended sentences" for several charges laid against him over the past eleven years – some of them violent in nature and others relating to animal crimes.
Potgieter had a string of convictions since 2001 including attempted murder, stock theft, assault and hunting of game.

For all of these convictions he received suspended sentences.
Repeat offenders – even some with prior rhino crime convictions – are nothing new in the ongoing rhino crisis.
At least 17% of 'game-industry white guys' that have faced charges for suspected involvement in rhino horn plundering had some kind of criminal background.
Only one of them (Gideon van Deventer) has actually done time in the jailhouse, while the rest have either received a minimal fine, have had their cases dismissed, or have a pending trial – including the notorious Dawie Groenewald.
Intimidating witnesses
Warrant Officer Jean-Pierre van Zyl-Roux explains that Potgieter has ties to corrupt police officers (who are also suspected of being involved in this case against Potgieter) that could be used to intimidate state witnesses.
It seems the suspect may have already been doing this himself, through his personal connections.
"Information has been received from various sources that the accused has been in contact with members of his family who have attempted to influence state witnesses and threaten them with bodily harm."
Intimidation of a key witness was a major factor that helped to destroy one of the biggest cases against a rhino horn syndicate in South African history – the trial against safari operators, Gert Saaiman and Clayton Fletcher.
The case was 'struck from the roll' in 2010 – apparently dismissed unless more evidence emerges in the future.
'Game-Industry White Guys'
Indeed, unscrupulous individuals hiding behind the cloak of conservation seem to be literally getting away with murder.
TRAFFIC's Dr. Tom Milliken, an expert on rhino horn and ivory trade, recently expressed his concern about this unsavory situation in a Business Day article.
But the proof in the pudding will be if those South African game-industry white guys who are involved in rhino crime get similar sentences. Then we'll start to see things turned around.
Of the hundreds of arrests related to rhino crimes made to date, fewer than 40 such 'white guys' have been arrested in connection with rhino crimes since 2006 and only two are currently in jail.
Will bail be granted?
All things considered, van Zyl-Roux suggests that granting bail to Potgieter could also lead to even more rhino carnage.
He said there was a strong possibility if released on bail, Potgieter would rejoin the other syndicate members in order to collect enough money to pay for his legal counsel.
There has been a troubling history of such individuals being released on bail, leaving many wondering if the problem will continue with this case.
Of the few 'game-industry white guys' that have been arrested for rhino-related charges over the last six years, over 90% have shockingly been granted bail.
Of the only two individuals that did not receive bail, one (Gideon van Deventer) was arrested for killing rhinos while he was out on bail for selling rhino horns.
He and his accomplice (brother, Nico van Deventer) are also the only ones known to have served prison time for their crimes to date.
Although another game industry insider (Jacques Els) has received a jail sentence for illegally trading in rhino horns, the penalty seems to have been suspended pending an appeal from the defense team, who has also submitted another bail application for the defendant.
---
Image: ©Bhatti Ijaz