In July 2010, we began our article series about China's rhino horn scheme. This is the latest development.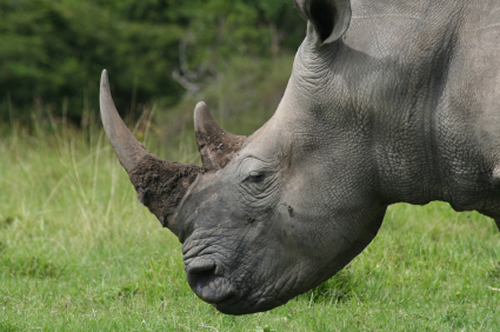 Environmental activists in China are taking a closer look at the Longhui Pharmaceutical Company's rhino horn farm, and here are a few of their recent findings.
According to Jing Zhang, the founder of China's Student Alliance for Animal Rights, most of the rhinos have been moved from Sanya to another farm in Yunnan Province.
Ten rhinos were identified at the Sanya location — one male and nine females. The rhinos were observed outside with a large mud wallow.
Jing's team interviewed residents living near the Sanya location, who claimed that the "company was unsuccessful at breeding rhinos".
While specific health issues could not be confirmed, it is suspected that some of the rhinos have died.
The Student Alliance for Animal Rights (SAFAR) has partnered with Green Beagle, a Chinese environmental NGO, to investigate the rhino horn scheme at ground zero.
SAFAR is opposed to the rhino farm. We at Saving Rhinos are assisting SAFAR with their upcoming awareness campaign about the rhino farm, rhinos, and the rhino horn trade.
Timeline and background
For the timeline and background on this disturbing situation, see:
About SAFAR
Student Alliance for Animal Rights is dedicated to promoting animal rights on various campuses and the local communities through student engagement. On college campuses, Student Alliance for Animal Rights intends to let students realize the major conservation and animal cruelty issues in United States, China, Costa Rica and other countries, and encourage them to educate the rest of the people in the community, through petitions, presentations, seminars, and other activities held on and off college campuses.
Learn more here.
---
Source: Pers. comm. Jing Zhang (Feb. – March 2012).
Image © iStockphoto.com