Alarming trends suggest that continued leniency towards unscrupulous 'game-industry white guys' is contributing to South Africa's rhino crisis.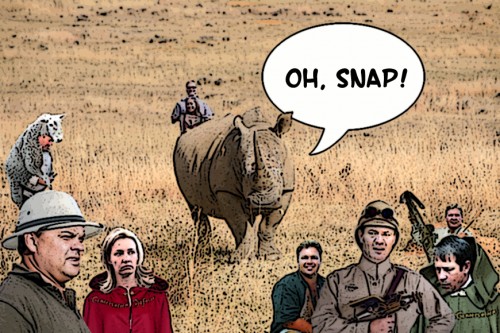 The recent 25-year jail sentences dealt to three Mozambican nationals convicted of slaughtering rhinos was indeed encouraging news from the battle to save South Africa's rhinos.
However, it must be noted that proper punishment continues to evade higher-ranking rhino horn profiteers.
Hiding behind the cloak of conservation
Unscrupulous individuals hiding behind the cloak of conservation are ferociously plundering South Africa's rhinos.
Instead of joining South Africa's battle to protect its rhinos, a corrupt minority of game farmers, professional hunters, and wildlife veterinarians have chosen to exchange their ethics for ill-gotten financial rewards.
Indeed, this cesspool of deceit has catapulted South Africa into the unfortunate position of being the lead supplier of illegal rhino horn for the rapacious black market.
The long unspoken truth no longer so hush-hush
TRAFFIC's Dr. Tom Milliken, an expert on rhino horn and ivory trade, recently expressed his concern about this unsavory situation in a Business Day article about the stern sentencing of the Mozambican rhino killers.
We have now moved into serious deterrence territory, at last. But the proof in the pudding will be if those South African game-industry white guys who are involved in rhino crime get similar sentences. Then we'll start to see things turned around.
Indeed, it is increasingly clear that weak criminal apprehension and (especially) pervasive failure in the justice system have become chronic obstacles to dismantling the upper levels of organized crime syndicates that frequently operate under the guise of "conservation-focused" business ventures.
Is the justice system biased in favor of 'game-industry white guys' when it comes to rhino crimes?
Alarming trends observed in recent years evidence the depth of the issues stemming from unchecked corruption in South Africa's game industry.
Although hundreds of arrests have been made, South Africa's conviction rates for rhino crimes remain deplorably low across the board – consistently less than five percent and even as low as 2.6% in 2010.
And despite indications unethical members of the conservation field are contributing to the carnage, only five percent of the summed 397 rhino-related arrests made in South Africa between 2010 and 2011 (as reported by the World Wildlife Fund) were "white guys".
Since 2006, 29 "white guys" have been arrested in connection with rhino crimes, and of them:
Repeat offenders
Shockingly, six of the 29 individuals arrested since 2006 had faced prior charges for contravening conservation laws, many of them rhino-related.
'Disappearing' court cases?
After being postponed numerous times, there has been a glaring lack of follow up information published regarding cases involving at least five of the 29 suspects nabbed for rhino crimes since 2006.
Perpetually postponed and pending
In addition to the thought-to-be pending cases mentioned above, another five are expected to appear in court again this year, as a result of bench-imposed deferments.
These 'insider' issues have existed from the start of the modern wave of rhino massacres
The first major rhino horn syndicate, dubbed the "Boere Mafia", was brought into the nation's justice system in 2006 – a group of safari operators, hunters, game farm and lodge owners, and a Port Elizabeth-based Chinese consortium.
The operation's alleged masterminds (Saaiman Hunting Safaris owner, Gert Saaiman, and Sandhurst Safaris owner, George Fletcher, along with Frans van Deventer) had much of their assets seized by the government and faced multiple charges, including racketeering, money laundering, various counts of theft, malicious damage to property and contraventions of the various provincial Conservation Acts and the Aviation Act.
In line with current trends, all three were released on bail amounting to R50 000 (US $6,600) each, despite apparently having killed at least 19 rhinos in national parks and on private game reserves.
Yet, after the key witness, Frans' brother Gideon van Deventer, was purportedly intimidated into refusing to testify against them in 2010, the presiding judge dismissed the case as "struck from the roll" on the grounds that the charges unjustly stemmed from arrests made four years earlier and that the prosecutor's litigation was largely based on the questionable testimony of a convicted felon.
Although the case did yield perhaps the only bail denials and prison sentences dealt to "white guys" for rhino crimes over the past six years (a five year term reduced by half for Nicholaas van Deventer and a ten year stint plea bargained down to eight for his repeat offender brother, Gideon), Gert, George, and Frans have essentially walked away scot-free.
Another suspected member of the crime ring, Pieter Swart, was also found guilty of purchasing rhino horns, fined R50 000 (US $6,600), and issued a suspended three year jail sentence, should he fail to complete payment of his fine.
The 'Groenewald Gang'
In September of 2010, the world was stunned by the arrests of eleven people in South Africa on what would later be a total of 1,872 charges related to their involvement in yet another rhino horn syndicate.
Now commonly referred to as the "Groenewald Gang", the accused include safari operators, veterinarians and their assistants, professional hunters, a helicopter pilot, businessmen, and farm workers.
The group is alleged to have killed hundreds of rhinos and since their arrests, it has been revealed that the ring leader Groenewald (with the assistance of his wildlife veterinarian accomplice, Karel Toet) purchased at least 36 rhinos from Kruger National Park between June and July of 2009 and a mass grave containing roughly 20 de-horned rhino corpses was discovered on the Groenewalds' "Pragtig" farm property in Musina.
As with so many others, all of those arrested were immediately released on bail and, though suspected syndicate mastermind, Dawie Groenewald, was initially dealt a record high bail — R1 million (over US $132,000) — it was later reduced by 90%, upon his request to the court.
Shockingly, it appears that Groenewald also continues to receive permits from the government to "hunt or convey" rhinos, despite the overwhelming amount of evidence to back the criminal allegations made against him.
From bad to worse
Despite having now had at least six years to develop improved methods for dealing with the corruption running rife throughout South Africa's game industry, we've only see the rhino crisis worsen and intensify.
These iconic creatures are now being violently exterminated from our planet at an unfathomable rate of at least one every 19-20 hours, on average.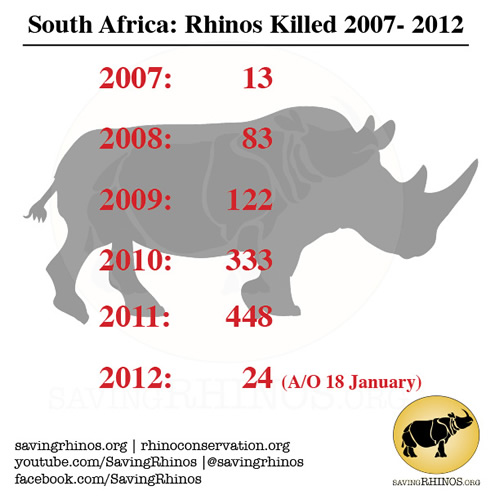 (As of this writing, unconfirmed sources outside the media claim at least 40 rhinos have been killed in South Africa in 2012.)
Yes, the source of the crisis is the ravenous, traditional Chinese medicine-based demand for the animal's medicinally ineffective, keratinous horns.
Meanwhile, South Africa's rhino horn "suppliers" cannot be overlooked — suppliers who are eager to profit from a predatory scheme that aims to market rhino horn to cancer-stricken families.
Alas, there will be little hope for halting or even slowing the rhino crisis, until the international community and South African authorities effectively and transparently address what lies at the crux of the problem: the very game industry that once spared the country's magnificent rhino from extinction.
---
Edited by Rhishja Cota-Larson
Image created by author.