A rhino has died while undergoing a controversial procedure.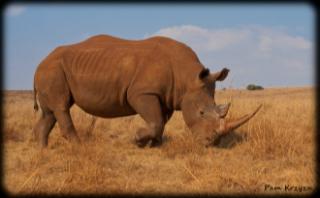 An experimental procedure meant to protect rhinos in South Africa by inserting insecticide into the horns sadly went wrong during a media demonstration, and instead resulted in a rhino's death.
Spencer, a 22-year-old rhino bull, died during the controversial treatment which is performed while the animal is sedated.
Spencer was unable to be revived from the anesthesia.
According to the developers of the rhino horn treatment at the Rhino and Lion Nature Reserve in Krugersdorp, the insecticide would serve as a poaching deterrent by rendering the horn unsafe for human consumption.
Additional information about this tragic incident can be found here.
---
Photo: "Spencer" © & courtesy Pam Krzyza