Wonderful news from Indonesia!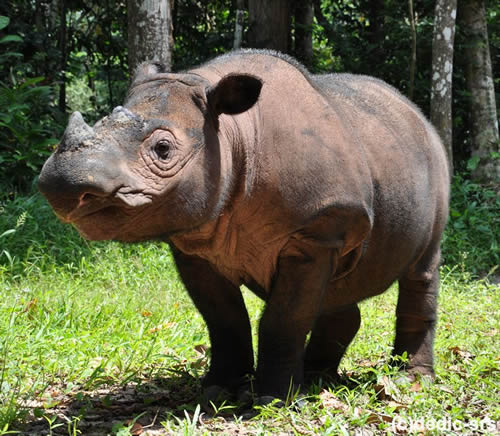 A bundle of joy could be arriving soon at the Sumatran Rhino Sanctuary in Indonesia's Way Kambas National Park: Ratu is now just a few months away from giving birth!
The baby's father is world-famous Andalas, who was born at the Cincinnati Zoo, and later moved to the 250-acre Sumatran Rhino Sanctuary in 2007, where he resides with Ratu and two other females, Rosa and Bina.
This pregnancy is the third for Ratu, whose previous attempts unfortunately ended in early miscarriages. She has just completed her eleventh month; rhino pregnancies last 15 — 16 months.
Ratu is receiving a daily hormone supplement, which was also prescribed to Andalas's mother, Emi, after she miscarried. The dosage and protocol is provided by Sumatran rhino expert Dr. Terri Roth, director of Cincinnati Zoo's Center for Conservation and Research of Endangered Wildlife and vice president for International Rhino Foundation's Asia programs.
Weekly weigh-ins and regular ultrasound exams are administered to the mother-to-be by Dr. Dedi Candra.
Executive director of the International Rhino Foundation, Dr. Susie Ellis, is hopeful about Ratu's pregnancy.
We've got fingers crossed that everything will continue to go well and that Ratu will deliver a healthy baby sometime in late spring or early summer. This is truly a dedicated team effort, not just with regard to managing a critical pregnancy, but also in terms of the round-the-clock effort to protect Indonesia's last remaining wild Sumatran rhinos.

We couldn't hope to accomplish either without the generous support we receive from concerned people all over the world.
Here's Andalas nudging Ratu: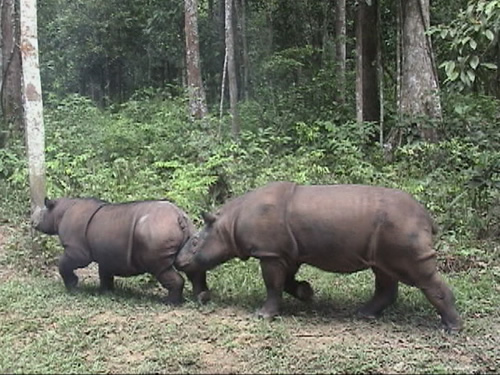 Sumatran rhinos face multiple threats
Sumatran rhinos are classified as Critically Endangered by the IUCN Red List of Threatened Species™, with fewer than 200 individuals surviving in Indonesia and Malaysia.
Like all rhino species, the Sumatran rhino faces the ever-present danger of being killed for unproven rhino horn remedies.
Tragically, Vietnam's rhino population was declared extinct last year. The last individual was shot and killed, thanks to wild claims of rhino horn's magical curative properties — claims which actually have no scientific basis.
In addition to rhino horn myths, Sumatran rhinos are gravely threatened by the continued destruction of their tropical forest habitat. Particularly notorious is paper giant Asia Pulp and Paper (APP), which has even gone as far to include Javan rhinos in their greenwashing attempts.
Every Sumatran rhino birth — in the wild, in a zoo or in a special sanctuary — represents hope for the survival of this species, which runs the risk of going extinct by the end of this century.
How to help Sumatran rhinos
The International Rhino Foundation, through its on-the-ground partner, the Rhino Foundation of Indonesia, funds the operation of the Sumatran Rhino Sanctuary and supports Rhino Protection Units that safeguard the last remaining wild populations of Sumatran and Javan rhinos.
To help support the Sumatran Rhino Sanctuary, visit the International Rhino Foundation.
---
Photos courtesy © International Rhino Foundation (IRF)