In July 2010, we published the first in a series of articles which connected the surging demand for rhino horn to a timeline of developments in China's traditional medicine industry. And during that time, more than 100 live rhinos were supplied to China by South Africa.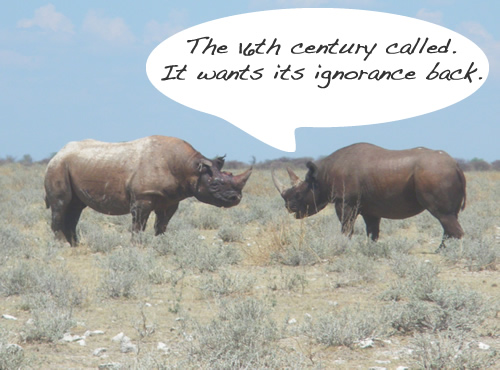 Although it has been widely thought that the rumor of rhino horn's alleged "cancer-curing" power started in Vietnam, we now strongly suspect that this rumor originated with (or was propagated by) China's Longhui Pharmaceutical "rhino horn harvesting" project.
Market demand for a 'cancer cure'
The Longhui Pharmaceutical Company publicly claims that it plans to sell rhino horn as a cancer treatment (among other things) on a "rhino horn biological medicine industrialization project" information page located on the Fularji District People's Government website (http://flej.gov.cn), as well as in a similar document obtained elsewhere. Both sources appear to have been published between 2005 — 2006.
Rhino horn is very important in the Chinese medicine field because of its effects: detoxication and anti-cancer, eliminating pathogenic heat from the blood, removing eczema. Rhino horn resources are rare because rhino are protected by [World Organization] and nobody can catch or kill them or trade in rhino horns. The Chinese government encourages people to develop a new substitute for rhino horn, but without substantial progress.

Therefore, the market demand for rhino horn will be great.
'Products with rhino horns'
Longhui Pharmaceutical's project is described as a "complete business chain of raw material extraction, processing, deep development and utilization" and the company's main products are "products with rhino horns, Chinese proprietary medicines or health products".
According to the document, the company's projected annual profit is 178.86 RMB (28.24 million USD) from 390.99 RMB (61.74 million USD) in annual sales.
It was further noted that because rhino horn is "natural and without side effects, traditional Chinese herbal medicine containing rhino horn will be easily accepted by the market and the price will be higher."
Cornering 'the market'
Longhui Pharmaceutical also hopes to control the entire "rhino horn market" by breeding its own rhinos.
The rhino horn will be supplied by the company itself, so there will be no market restraints or competitors, with the company's raw materials providing an obvious advantage. The price of the medicine and its cost will be stable.
Forestry departments aware of the scheme
The horn-harvesting plan has been moving forward with the approval of the National Forestry Bureau.
Longhui Group's "shaving alive rhino horn technology" was approved by the National Forestry Bureau and Ma Jianzhang, professor at Northeast Forestry University and Wild Animal Management academician. He is the leader of this project.
And the State Forestry Administration appears to be in on the scheme, too.
When the project was brought forward, much attention was paid by leaders in the State Forestry Administration.

It is considered to be a good project which can [inherit and] develop traditional Chinese herbal medicine. The development of this project will surely promote the cause of traditional Chinese medicine.
'Unproven use' of rhino horn as cancer treatment
In August 2011, Lixin Huang, the President of the American College of Traditional Chinese Medicine (ACTCM) and Council of Colleges of Acupuncture and Oriental Medicine (CCAOM) released a statement opposing the use of rhino horn in medicines.
There is no evidence that rhino horn is an effective cure for cancer and this is not documented in TCM nor is it approved by the clinical research in traditional Chinese medicine.
Huang suggested that the escalation of rhino killings in South Africa, along with the involvement of organized crime, is driven by the "non-traditional and unproven use" of rhino horn as a cancer treatment.
Peddling bogus cures
The "cancer rumor" is a gimmick to peddle bogus cures — and it's being used to sell other species: Manta rays and pangolins.
Writer John Platt of Scentific American covered the Manta ray situation earlier this month.
TCM practitioners are marketing the rakers — known locally as peng yu sai — as an ingredient for soup that they claim boosts the immune system by reducing toxins and enhancing blood circulation.

Other supposed medical benefits include curing cancer, chickenpox, throat and skin ailments, male kidney issues and, as we often see with TCM, fertility issues.
And at Project Pangolin, we found that the China Association of Traditional Chinese Medicine website states that leopard bone, antelope horns, pangolins, bears, and rare snakes are "necessary raw ingredients" for the treatment of "coronary heart disease, myocardial infarction, angina, stroke, coma, cerebral vascular disease, fever-induced delirium and shock, infectious diseases, cancer treatment."
(Pangolins are also being farmed for "medicinal use" in China, which is a significant contributing factor to the flourishing illicit pangolin trade.)
Ethics vs. greed
Encouraging cancer-stricken people to consume rhino horn instead of seeking medical treatment?
It seems ethics have sunk to an all-time low — and greed is flying at an all-time high.
Timeline and background
For the timeline and background on this disturbing situation, see:
---
Image via Wikimedia Commons; caption added by author.