A gang of rhino killers received a taste of their own medicine.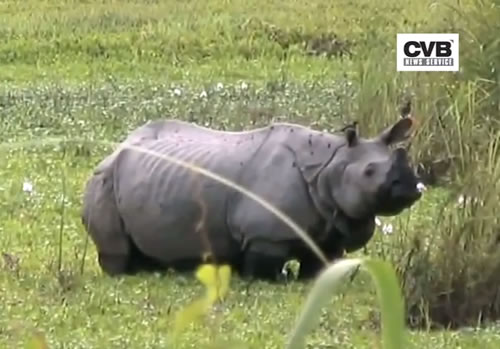 A rhino killing attempt was thwarted by Kaziranga National Park security forces, who shot three gang members during a deadly five hour encounter.
Authorities confiscated a rifle, ammunition, and an axe from the gang.
Check out the CVB News video:
Last weekend, a suspect was arrested when he sneaked into the Assam State Zoo, with the intention of killing at least one of the zoo's nine greater one-horned rhinos.
Greater one-horned rhinos
One of the three Asian rhino species, greater one-horned rhinos (Rhinoceros unicornis) were once widespread throughout the northern floodplains and nearby foothills of the Indian sub-continent between Indo-Myanmar border in the east, and Sindh River basin, Pakistan in the west.
Today, the remaining 2,949 greater one-horned rhinos are found only in a few protected areas in northeastern India and lowland Nepal.
Traditional medicine myths continue to threaten rhinos
Although the greater one-horned rhino population is steadily increasing, these rhinos remain under threat of being killed for their horn.
Despite the fact that extensive scientific analysis has confirmed that rhino horn has no medicinal value, myths and superstitions about rhino horn persist throughout China and Vietnam, where rhino horn is considered a key ingredient of traditional Chinese medicine.
---