An extremely disturbing incident.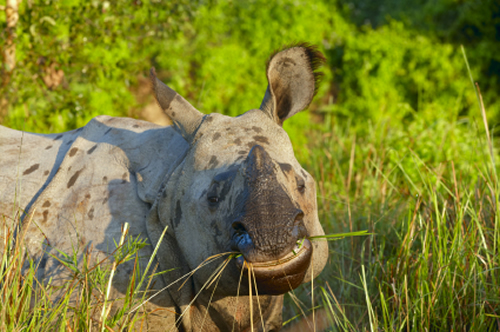 Police in Guwahati have arrested a man identified as Chin Khansong after he sneaked into the Assam State Zoo with a .303 rifle, ammunition, an axe, and a machete. The suspect confessed he was planning to kill "as many rhinos as possible" in order to sell their horns.
Nine greater one-horned rhinos reside at the zoo.
According to the Hindustan Times, Khansong is from the Churachandpur district of Manipur.
He had apparently scaled the zoo's wall during the night, hoping the facility would be empty during Magh Bihu (Assam's harvest festival).
Last year, the Thoiry zoo and wildlife park near Paris placed its rhinos under camera surveillance for added security.
Tiger killed inside zoo
In August 2009, a Sumatran tiger was killed and skinned inside her enclosure at Rimbo Zoo in Indonesia.
The tiger's skin, along with the various body parts in demand for traditional Chinese medicine, were taken from the tiger's enclosure.
Two people identified as Akmamul Mukminin and Samsudin alias Udin Bolu were later arrested for killing the tiger. Samsudin was sentenced to 46 months in jail.
---
Photo © iStockphoto.com