Myths, greed, corruption.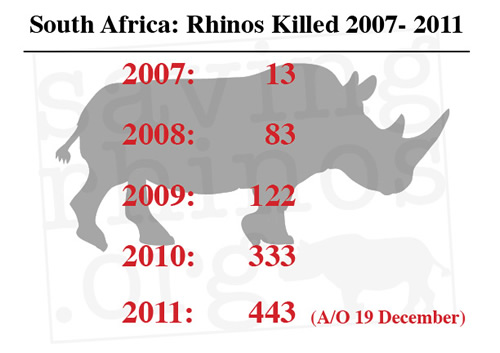 It's mid-December 2011 and South Africa has lost at least 443 rhinos to the illegal rhino horn trade this year, surpassing 2010's death toll of 333.
This shocking figure, reported last week by National Geographic, is likely to climb higher by the end of year. (Sources outside the media say that the number has already surpassed 460.).
Myths, greed, corruption
The killing is driven by the demand for rhino horn from China and Vietnam, where rhino horn is believed to cure a number of ailments (including cancer), despite rhino horn's lack of medicinal properties.
Rhino horn suppliers in South Africa continue to cater to the demand by exploiting existing trade loopholes (trophy hunting and live exports), while they attempt to gather support for a "legal trade" in rhino horn.
South Africa has also exported over 100 live rhinos to China, where a multimillion-dollar rhino horn farming scheme has apparently been established by exploiting CITES research loopholes.
How to help: Operation Stop Poaching Now
US-based International Rhino Foundation (IRF) has partnered with security experts in South Africa to increase conviction rates for rhino crimes and improve anti-poaching operations in eleven highly threatened rhino habitats in South Africa and Zimbabwe.
Dr. Susie Ellis, Executive Director of IRF, notes that the conviction rate for rhino crimes is appallingly low.
Authorities estimate that fewer than five percent of rhino poachers are convicted – they are literally getting away with murder.
Find out how you can help fight rhino crimes in South Africa and Zimbabwe at Operation: Stop Poaching Now.
---
Image © Saving Rhinos LLC