"Act as if what you do makes a difference. It does." – William James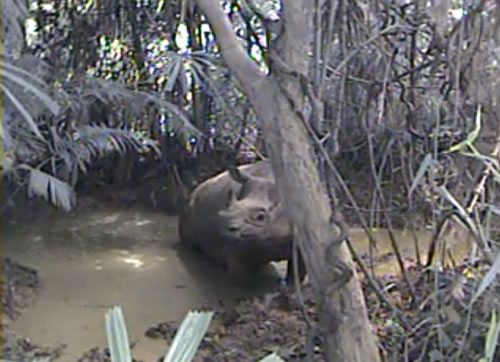 There are fewer than 50 Javan rhinos left in the world and you can help protect them by supporting Operation Javan Rhino, a global partnership led by International Rhino Foundation and Save the Rhino International.
Javan rhinos at risk
With the recent extinction of the Javan rhino in Vietnam, there is only one population of Javan rhinos left on Earth.
All of them live in Ujung Kulon National Park on the island of Java, Indonesia.
The Javan rhino is at significant risk of extinction – one natural disaster or an introduced disease could be the end of this species forever.
But you can help prevent the extinction of Javan rhinos!
Operation Javan Rhino
Operation Javan Rhino is creating 4,000 hectares of expanded habitat for Javan rhinos in Ujung Kulon, to encourage population growth and establish a second "insurance" population of Javan rhinos at a separate site.
Here's what Operation Javan Rhino is doing to make the new habitat suitable and safe for Javan rhinos:
Clearing the site for an electric fence and adjacent patrol road
Constructing a fence and small bridges
Planting rhino food plants and removing invasive species
Creating a water supply and salt-lick
Constructing new guard posts
Hiring and training more guards and other staff from local villages
Launching an education program for nearby communities
This immense project costs $650,000 – and $350,000 has already been raised. International Rhino Foundation and Save the Rhino International are asking for your help in raising the additional funds needed to prevent the extinction of the Javan rhino.
Please visit the International Rhino Foundation's Operation Javan Rhino page to make your donation and learn more.
---
Sources: International Rhino Foundation and Save the Rhino International