"Indifference, to me, is the epitome of evil." – Elie Wiesel


In October 2011, the Vietnamese Javan rhino (Rhinoceros sondaicus annamiticus) was declared extinct, and it was in July 2006 that the presumed extinction of the Western black rhino (Diceros bicornis longipes) was reported.
According to this year's assessment from the IUCN Red List of Threatened SpeciesTM, Diceros bicornis longipes is now gone forever.
Lack of political will
Both extinctions were preventable.
The WWF report "Extinction of the Javan Rhinoceros (Rhinoceros sondaicus)" indicated that there was a glaring lack of political will and very little, if any, accountability for the protection of this critically endangered species. (The world's last Rhinoceros sondaicus annamiticus was found shot with her horn missing.)
Sadly, it is not at all surprising that the recently updated Diceros bicornis longipes page on the IUCN Red List of Threatened SpeciesTM reads as follows:
Given the wildlife poaching taking place, lack of political will and conservation effort by Cameroon conservation authorities in the past, and increasing illegal demand for rhino horn and associated increased commercial rhino poaching in other range states, it is highly probable that this subspecies is now extinct.
Black rhinos have been classified as Critically Endangered since 1996, following an Endangered listing for at least ten years.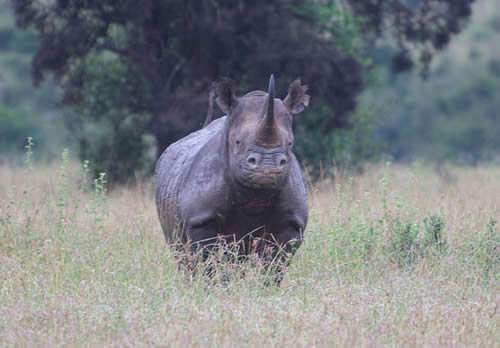 Between 1970 and 1993, the demand for rhino horn decimated the black rhino population from around 65,000 to fewer than 2,500.
Thanks to conservation efforts and the ban on rhino horn trade, there are now around 4,860 black rhinos, comprised of three subspecies:
South-western black rhino (Diceros bicornis bicornis)
Eastern black rhino (Diceros bicornis michaeli)
South-central black rhino (Diceros bicornis minor)
Regarding the Western black rhino (Diceros bicornis longipes), see also:
---
Image #2 by Ludovic Hirlimann from 's-Gravenhage, The Netherlands (Rhino) via Wikimedia Commons