Camera traps recorded just four females in a recent survey.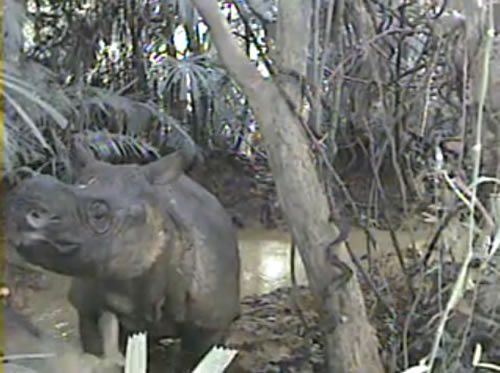 It is barely a week since the extinction of the Javan rhino subspecies (Rhinoceros sondaicus annamiticus) was confirmed, and already there is troubling news about the remaining Javan rhinos.
There may be just a handful of females among the world's last population of Javan rhinos (Rhinoceros sondaicus sondaicus), which are found only in Indonesia.
According to The Jakarta Globe, camera traps recorded 17 rhinos this year and only four were females.
The rhinos were found in the eastern half of Ujung Kulon National Park.
Video of Javan rhino and calf:
Recently, the video cameras were moved to the western half of the park, which is "more remote".
It is hoped that additional female Javan rhinos will be found; the results could be known in a few weeks.
Learn more about the extinction of the Javan rhino in Vietnam at "Gone Forever: Javan Rhino Declared Extinct in Vietnam".
'Operation Javan Rhino'
However, there is hope for Javan rhinos in Indonesia.
The International Rhino Foundation (IRF) along with an international team of partners, is working to expand the useable habitat for Javan rhinos in UKNP by creating the 4,000 hectare Javan Rhino Study and Conservation Area (JRSCA).
We are doing this by constructing small bridges, an electric fence, and a patrol road; eradicating invasive species which have taken over a good portion of the habitat; planting rhino food plants; providing a water supply and saltlick; and constructing additional guard posts. The continued survival of the Javan rhino depends on their population increasing in numbers as rapidly as possible, and in spreading the population out so that 'all the eggs are not in one basket'.
Find out how you can help Operation Javan Rhino here.
---
Image via YouTube