Congratulations.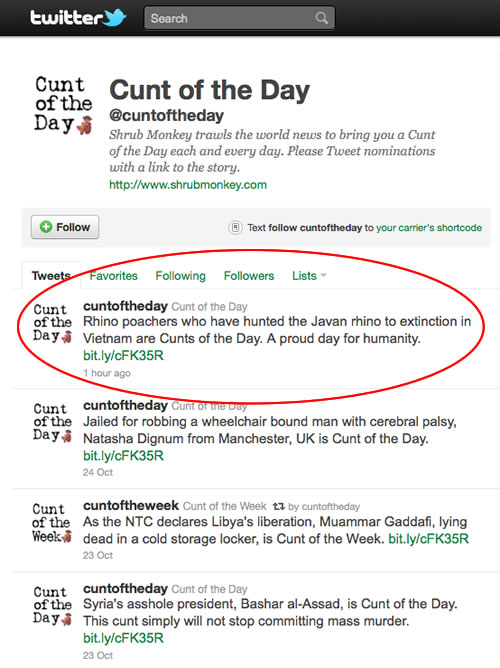 Today, I am pleased to note that Shrub Monkey has bestowed "Cunt of the Day" status upon the vile thugs who are responsible for the extinction of the Javan rhino in Vietnam.
Shrub Monkey's "Cunt of the Day" (@cuntoftheday) currently has 47,957 followers on Twitter.
Shrub Monkey tweeted: "Rhino poachers who have hunted the Javan rhino to extinction in Vietnam are Cunts of the Day. A proud day for humanity."
Here is an excerpt from today's Shrub Monkey blog:
It is high time that poachers got another mention on these pages as they really are a bunch of indefensible cunts. We learn today that the Javan rhino has been poached to extinction in Vietnam. Living in a protected area was not enough for the few remaining rhinos who were illegaly hunted for their horns. This leaves a population of about 50 Javan rhinos in Indonesia.

Poachers are flat out cunts and no excuses about coming from a poor country will cut it. Those who willingly purchase products made from rare species are also cunts of the first order whose selfishness perfectly exemplifies our greed, stupidity and lack of respect for the world in which we live.
Follow Shrub Monkey's Cunt of the Day at @cuntoftheday
Learn more about the extinction of the Javan rhino subspecies at Gone Forever: Javan Rhino Declared Extinct in Vietnam.
Here's to a well-deserved Cunt of the Day award!
---