More rhino t-shirt designs!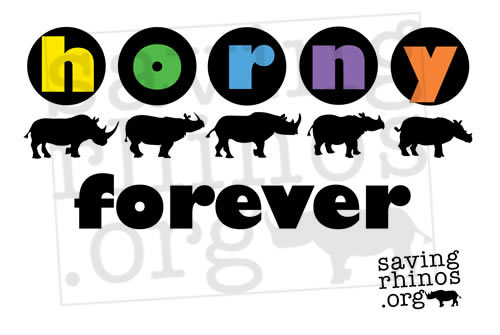 Since 2007, we've been offering a wide selection of rhino t-shirts and other merchandise, and one of the most popular t-shirt designs has consistently been our "horny is good" t-shirt. People seem to have fun with this message.
This year – just in time for the holidays – those who enjoy the "horny" double entendre are in for a treat: We've just added a new online store called Horny Forever.
Horny Forever features designs that are geared towards adults. (Those of you with an eye for detail might have noticed a slightly different version of the Saving Rhinos logo – more on that later.)
Six 'horny rhino' designs
As of this writing, there are six designs (including the original "horny is good"), with more in this week's pipeline.
In addition to the Horny Forever logo, there is "Big & Horny" (a white rhino) and another called "Making Baby Rhinos" that is simply an illustration of two rhinos (making a baby rhino). "Have a horny day!" is a simple twist on a classic design.
And then there's just "HORNY" which sports a golden rhino with plum lettering.
Visit both stores:
Please note: Merchandise is available for online ordering only; international shipping is available.
Rhinos in Nepal
We contribute a portion of our t-shirt proceeds to Partnership for Rhino Conservation (PARC/Nepal) and have been doing so since 2009.
The funds help pay for printing educational materials and sponsoring public awareness events that directly impact the people living side-by-side with the greater one-horned rhino in the Chitwan National Park buffer zone. In addition, we promote PARC's efforts on our social media platforms.
Find out more about the public awareness activities we have helped support at Update from Nepal: A Successful Year of Raising Public Awareness About Rhino Conservation.
About Saving Rhinos
Saving Rhinos LLC is mostly a self-funded endeavor, and is not a charity or nonprofit, and does not accept donations. I also work behind the scenes to provide subject matter expertise to select NGOs and verifiable media sources.
© Saving Rhinos LLC
---
Image: © Saving Rhinos LLC