World Rhino Day in Nepal!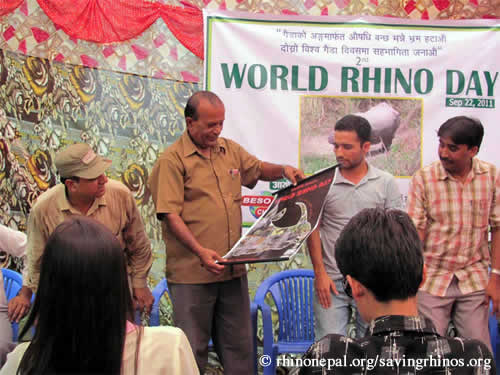 On September 22nd, 2011, World Rhino Day was celebrated for the first time in Nepal.
The historic event was covered by local TV, radio (Nepal and South Africa), local newspapers, and social media.
Team leader and founder of Partnership for Rhino Conservation (PARC/Nepal) Suman Bhattarai, spoke to journalists, stakeholders and other parties about World Rhino Day – and the need to protect rhinos.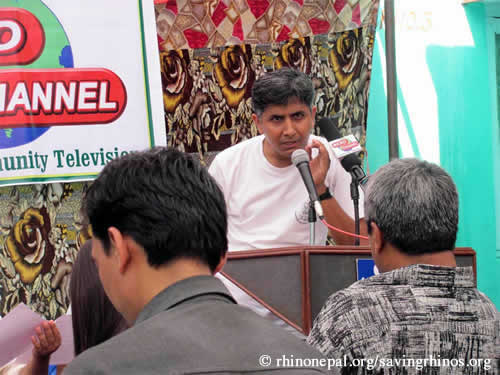 He explained that rhinos are under threat globally because of myths about rhino horn.
The misconception and mystical belief about rhino horn is the main cause for rhino poaching.
In addition to promo clips leading up to World Rhino Day, the program was broadcast live through Beso Channel, and on three radio stations, then aired again several times.
Chitwan's online news portal, Chitwan Khabar, also featured World Rhino Day on the website.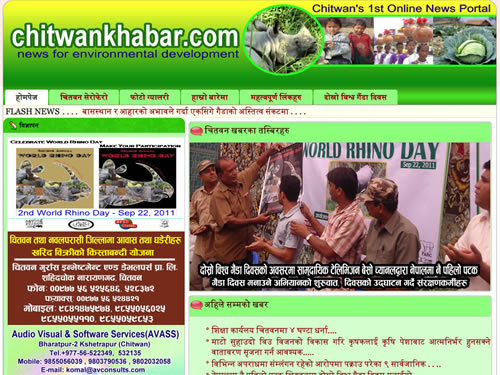 Mr. Bhattarai was interviewed by Synergy FM in Nepal, and Jacaranda FM in South Africa.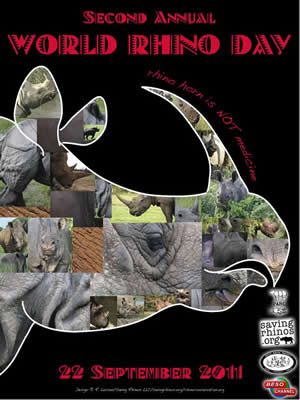 A total of 20 World Rhino Day posters with hangers and frame were distributed to Chitwan National Park, Bufferzone Council, Bufferzone User Committees, Anti-poaching groups, Terai Arc Landscape Programme office, and members of the local media.
Another presentation was given by representatives of local institutions, who highlighted existing dangers to rhinos, and the possible role of local communities to overcome these threats.
It was chaired by the president of Mrigakunja User Committee and facilitated by the President of Community Based Geographical Information System Center Nepal. Participants included President of Bauchhouli VDC, Officer of TAL/WWF, Chairman of Anti-poaching Group, and the Hotel Association/Nepal.
This local presentation was organized by the Chitwan National Park Bufferzone Mrigakunja User Committee, Community Based Geographical Information System Center Nepal, Sauraha, and the Anti-Poaching Group (Bufferzone of Chitwan National Park).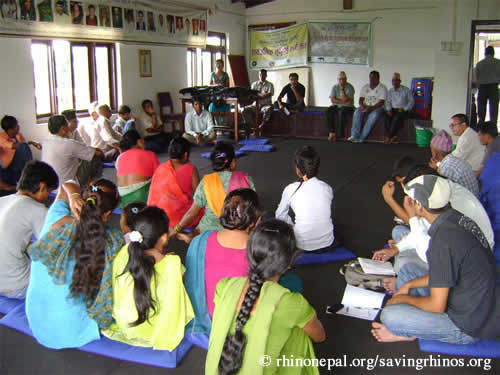 World Rhino Day in Nepal was also supported by Saving Rhinos and Asian Rhino Project.
Partnership for Rhino Conservation, Nepal
We have been working with Suman Bhattarai and his grassroots organization Partnership for Rhino Conservation (PARC/Nepal) since June 2009. Under Suman's guidance, PARC focuses on helping the residents of Chitwan National Park's buffer zone live side-by-side with the greater one-horned rhino.
We assist Suman with promoting PARC's efforts on our social media platforms and also with support from our t-shirt sales.
Find out more about the public awareness activities we have helped support at Update from Nepal: A Successful Year of Raising Public Awareness About Rhino Conservation.
---