Positive signs or just more posturing?
The widely-publicized meeting between Vietnamese and South African officials earlier this week could actually be a step in the right direction: A Vietnamese diplomat was quoted as saying "we need to get rid of the wrong understanding that rhino horn can cure cancer."
According to MSNBC, attending diplomat Kien Nguyen seemed willing to tackle the issue of rhino horn demand in Vietnam.
We need to raise public awareness of the importance of biodiversity and we need to get rid of the wrong understanding that rhino horn can cure cancer.
The reaction seems to be part of a growing consensus that illegal rhino horn trade needs to be addressed at the consumer level, as part of a multifaceted approach that includes increased prosecutions for rhino crimes along with anti-poaching efforts in rhino horn supplier countries, such as South Africa.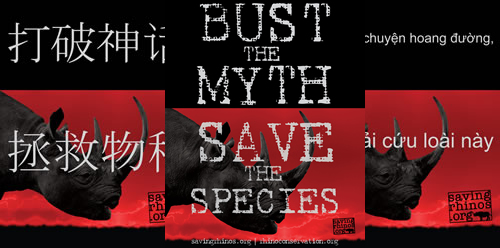 (Download the above posters from here.)
Last week, Education for Nature-Vietnam (ENV) launched an online campaign on the ENV Volunteer Network page on Facebook®, which is in Vietnamese. The campaign was in recognition of World Rhino Day.
The notion that rhino horn is a remedy for cancer has already been denounced by the Register of Chinese Herbal Medicine (RCHM), the American College of Traditional Chinese Medicine (ACTCM), and Council of Colleges of Acupuncture and Oriental Medicine (CCAOM).
And in 2010, an oncologist in Malaysia spoke out against the use of rhino horn as a medicine.
Positive signs
Regarding the Vietnamese-South African talks on the rhino crisis: Although I tend to regard this type of high level posturing with a certain amount of skepticism (as in "how many rhino horns will be taken back to Vietnam after this meeting?"), I also make an effort to look for positive signs. And I think this qualifies.
So here's to busting the medicinal myths about rhino horn!
---
Image #1 © iStockphoto.com; image #2 © Saving Rhinos LLC