Will this be another postponement or will action finally be taken against this (alleged) thug and his cronies?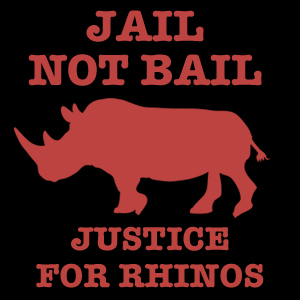 The high-profile South African rhino horn syndicate case involving game farmer Dawie Groenewald, and veterinarians Karel Toet and Manie du Plessis is expected to resume on September 30th.
Tomorrow's (or today's, depending on your time zone) appearance follows a postponement from April 2011. Many people are expecting another postponement (or even some sort of debacle). I'll post updates once they are confirmed. (Update: The Groenewald gang is expected to stand trial. Read more here.)
The suspects will face a litany of charges, including assault, fraud, corruption, malicious damage to property, illegal possession of firearms and ammunition, and contravention of the National Environmental Biodiversity Act.
WWF South Africa noted via Facebook® that they would "monitor the case very closely."
Suspected "ringleader" Groenewald, along with Toet, du Plessis, and eight others were arrested in September 2010 for alleged involvement with hundreds of rhino poaching incidents and dealing in rhino horn. They were granted bail just days later by the Musina court's magistrate Errol Luiters.
Groenewald still in the rhino business
Despite facing the charges noted above, Groenewald has managed to stay active in the rhino business.
Earlier this month, Groenewald purchased at least ten rhinos at an auction in a deal with another game farmer.
And in July, copies of permits granting Groenewald permission to "hunt or convey" white rhinos – issued despite his arrest in 2010 – circulated via email and eventually surfaced on various social media networks.
Take a look at the permit copies here.
Backstory
To read more about the shocking events that exposed the "Groenewald gang" to the world, check out Court Date Approaches for South African 'Groenewald Gang' Rhino Horn Syndicate Suspects.
If you would like to view a list of the suspects and read more about Groenewald's previous brushes with the law, see South African 'Groenewald Gang' Returns to Court in April for Killing Rhinos, Dealing in Rhino Horn.
Root of the rhino crisis
At the root of the rhino crisis is the continued use of rhino horn in traditional Chinese medicine. Rhino horn is also being marketed as a "cancer treatment" – a use which is condemned by the Register of Chinese Herbal Medicine and TCM educators.
To learn more about the scientific testing that has proven rhino horn has no medicinal value, check out Busting the Rhino Horn Myth with Science.
The rhino crisis is further compounded by "business interests" in China and South Africa that are exploiting trade loopholes to profit from the wild claims of rhino horn's magical powers as a "cancer cure". (This is what Groenewald was doing. Allegedly.)
Find out more about the abuse of loopholes at "Suspicions Confirmed: China Investing Millions in Rhino Horn Scheme" and "Concern Grows Around South Africa's Legal Trade in Live Rhinos."
As of this writing, South Africa has already lost at least 309 rhinos to the illegal rhino horn trade.
---
Image © Saving Rhinos LLC