The killing continues – but is there a sign of hope?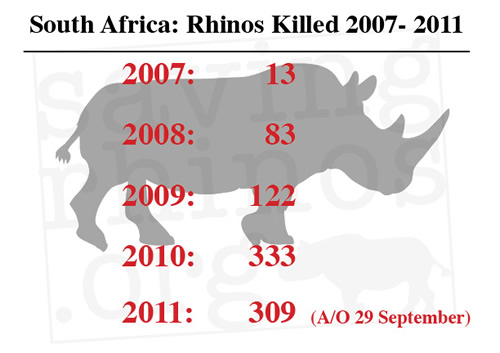 The lethal combination of myths, greed, and corruption has reportedly claimed the lives of 309 rhinos in South Africa this year.
However, despite the grim tally, there may also be a sign of hope.
A Vietnamese official, part of a delegation to South Africa this week, stated there is a need to "get rid of the wrong understanding that rhino horn can cure cancer."
In fact, the willingness to address consumer demand for rhino horn by dispelling the notions of rhino horn's alleged curative properties is a movement that seems to be gaining momentum.
Last week, Education for Nature-Vietnam (ENV) launched launched an online campaign on the ENV Volunteer Network page on Facebook®, which is in Vietnamese. The campaign was in recognition of World Rhino Day.
The notion that rhino horn is a remedy for cancer has already been denounced by the Register of Chinese Herbal Medicine (RCHM), the American College of Traditional Chinese Medicine (ACTCM), and Council of Colleges of Acupuncture and Oriental Medicine (CCAOM).
And in 2010, an oncologist in Malaysia spoke out against the use of rhino horn as a medicine.
---
Image © Saving Rhinos LLC