A sad update from Assam.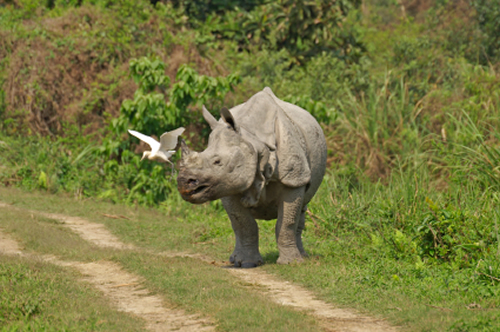 Just days after authorities managed to disrupt a gang of rhino killers camped near Kaziranga National Park, a female rhino was found dead with her horn missing.
The rhino was murdered near Chirang forest camp in the Burhapahar range; she had four bullet wounds.
The Times of India reports that gunfire was exchanged between the gang and authorities.
It is believed that three people are involved and that they are still in the area, taking refuge near the park's border. Police are working with local intelligence sources are hope to make arrests soon.
In an incident earlier this week, officials recovered a .303 rifle and ammunition from a gang in the Bokakhat area.
According to the Times of India, this is the second rhino killed in Kaziranga National Park (a UNESCO World Heritage Site) since the beginning of the year. The Hindu reports that the state of Assam has lost a total of nine rhinos to the illegal rhino horn trade in 2011.
The current population of greater one-horned rhinos is around 2,949. This Asian rhino species is found only in a few protected areas within northeastern India and lowland Nepal.
Traditional medicine myths continue to threaten rhinos
Although the greater one-horned rhino population is steadily increasing, these rhinos remain under threat of being killed for their horn.
Despite the fact that extensive scientific analysis has confirmed that rhino horn has no medicinal value, myths and superstitions about rhino horn persist throughout China and Vietnam, where rhino horn is considered a key ingredient of traditional Chinese medicine.
---
Photo © iStockphoto.com