A list of creative ways for you to celebrate World Rhino Day!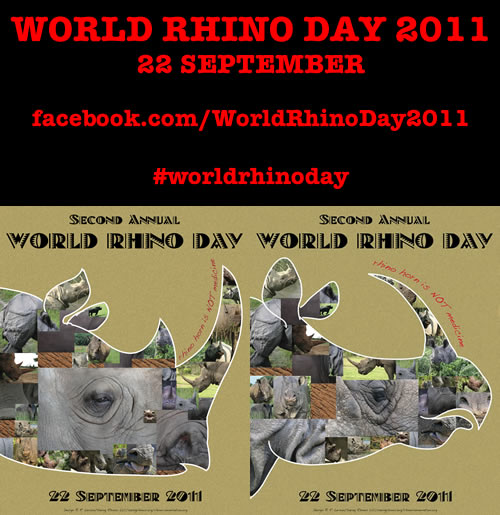 The Second Annual World Rhino Day is September 22nd and we've compiled a helpful list of creative ideas to get you started!
Cause-related organizations, NGOs, zoos, and members of the public are encouraged to celebrate these precious pachyderms with both offline and online activities.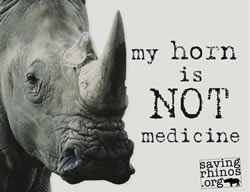 Root of the rhino crisis
At the root of the rhino crisis is the myth that rhino horn contains curative properties.
For that reason, World Rhino Day 2011 is highlighting efforts to debunk the myths and diminish the demand for rhino horn.
World Rhino Day tradition continues
Last year, WWF led the inaugural World Rhino Day initiative by asking people around the world to make noise for rhinos in an effort to bring attention to the rhino crisis, and to help raise funds for anti-poaching efforts.
This year, the World Rhino Day tradition continues with a team effort led by Zimbabwe-based Chishakwe Ranch and US-based Saving Rhinos LLC.
'All in for Rhinos'
The World Rhino Day 2011 flagship project is the production of "All in for Rhinos", which will feature user-generated content and showcase the creative ways people are raising awareness about the rhinos' plight and spreading the message that rhino horn is not a remedy.
Beginning now and through September 22nd, we are inviting people from every corner of the world to submit photos for inclusion in World Rhino Day 2011's "All in for Rhinos" feature!
You can post your photos to World Rhino Day 2011 – if possible, use high-resolution photos.
(Note: Photos which feature how people are celebrating rhinos will be given preference for the "All in for Rhinos" project.)
Please feel free to share your rhino photos on World Rhino Day 2011.
Get creative
Please consider taking some time between now and September 22nd to celebrate World Rhino Day and participate in "All in for Rhinos". The suggestions that follow are mainly time commitments and are very pocketbook-friendly.
We hope these ideas get your creative juices flowing!
Posters in Action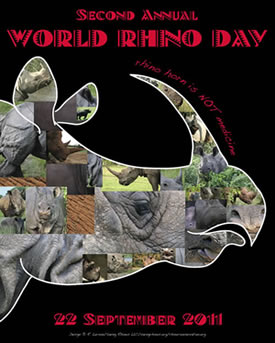 We want to see posters up all over the world!
Feeling crafty? Create your own posters! Or download posters from Saving Rhinos' World Rhino Day 2011 poster collection.
Print the posters and put them up where people will be sure to see them: Schools, businesses, at your office, your favorite coffeehouse or the shopping center kiosk are just a few suggestions!
Take photos of the posters when you have them up!
Share your photos of "posters in action" on World Rhino Day 2011 at facebook.com/WorldRhinoDay2011
Wall of rhinos
Rhinos, paint, and kids: A crafty combination for a World Rhino Day classroom art project!
Have your students paint pictures of rhinos – the more, the better
Put all of the kids' artwork up in the classroom – until an entire wall is covered with rhinos
Take a photo of the "wall of rhinos" so we can include it in "All in for Rhinos"!
Chalk it up
This is a great way for kids (of all ages) to get involved – and get outdoors, too!
Use chalk to draw rhinos on neighborhood and city sidewalks, and playgrounds
You can also write conservation messages such as "rhino horn is not medicine" or a simple "World Rhino Day is September 22!"
There are more ideas for using sidewalk chalk at "Walking on Wildlife" here.
Have a party
Is there a birthday (or anniversary) coming up in your family, classroom or at the office?
How about celebrating with rhino-shaped cookies, a rhino decorated cake – or even a rhino made out of cake?
Check out this amazing rhino-shaped cake:
For the adults: Did you know there is a cocktail called "Charging Rhino"? Here's the recipe via MixedDrinkWorld.com: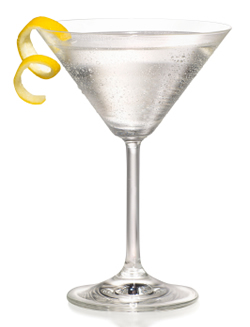 Ingredients:
1 1/2 oz vodka
1/2 oz Campari bitters
1/2 oz dry vermouth
Preparation Instructions: Shake ingredients in a cocktail shaker with ice. Strain into a cocktail glass and garnish with twist of lemon.
Servings: 1 person
Serve In: Cocktail glass
Make some noise
Following in the WWF tradition of the first World Rhino Day, dust off your vuvuzela and make noise for rhinos!
No vuvuzela? Honk your car horn or your didgeridoo, crank up your electric guitar or just give a rhino-sized shout!
You can also donate to WWF's rhino conservation efforts here.
Social media sharing
It is simple and effective to spread messages via social media.

Bloggers – write about World Rhino Day and post your link to World Rhino Day 2011. (Please note: Posts which advocate violence or harm will be deleted.)
For those of you using Twitter, the hashtag is #worldrhinoday – you can help make World Rhino Day a trending topic!
One of the most popular social media networks is Facebook®. You can also help spread the word on StumbleUpon, Reddit, Digg, and others.
Connect
Connect with World Rhino Day 2011 on Facebook® at facebook.com/WorldRhinoDay2011.
NGOs, zoos, cause-related organizations: Are you holding a fundraiser or promotion for World Rhino Day? Please post a link to your event to the World Rhino Day, or send your information to info (at) savingrhinos (dot) org.
See you there!
---
Image #1, #2 & #3: Saving Rhinos LLC; #4 © iStockphoto.com; #5 via webstockbox.com