Tragic details behind the antique rhino horn frenzy.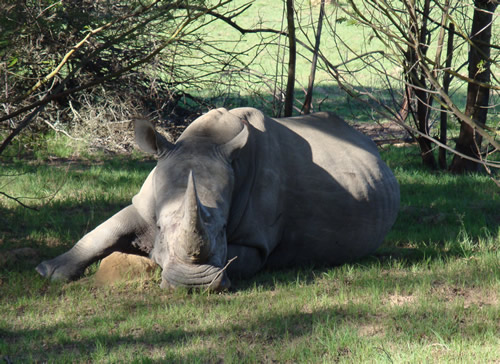 Although antique rhino horn has been starring in recent headlines, the tragedy behind the spotlight remains woefully underreported.
Antique rhino horn is now commanding record prices at auctions and appraising for exceedingly high values. Specimens are also being stolen from museums and castles.
Unfortunately, there does not seem to be much focus on "why" this is happening.
A blatant example was yesterday's media buzz over a set of antique rhinoceros horn cups – a buzz which failed to mention that rhinos are still being killed today because of the perceived monetary value of rhino horn.
In fact, over 200 rhinos have been killed in South Africa this year, and 333 were killed last year.
'Direct link'
According to data compiled by the European Union (EU) for CITES, there is a direct link between the "growing affluence in many traditional consumer States", the escalating prices in antique rhino horn – and the rising death toll of rhinos in South Africa.1
The report noted that "pre-convention specimens" of rhino horn purchased in the EU typically had re-export destinations of China, Thailand and Taiwan.2
Closing loopholes
The escalating price of antique rhino horn attracted the attention of authorities in the UK after a surge of buyers from the Far East were found to be paying unprecedented prices for mounted rhino horn, with the intention of exporting the horns and having them manufactured into Chinese medicines.
In an effort to crack down on the abuse of trade loopholes, it is now illegal to sell antique rhino horn trophies and mounted rhino horns in the UK.
However, loophole abuse is not the only way for antique rhino horn to enter the illegal market.
Irish connection
An Irish organized crime group (OCG) was found to be targeting antique rhino horn in the EU, UK, France, USA, South America, South Africa, China, and Australia.
The OCG has sourced contraband from auction houses, museums, antique dealers, art galleries, and private collectors. Members of this group have also stolen specimens from the above.
Two Irish citizens are currently in a US prison for attempting to purchase rhino horn in an undercover operation in Colorado.
In an effort to address the surge in museum heists which have targeted rhino horn, Saving Rhinos LLC, together with the Lawyers' Committee for Cultural Heritage Preservation (LCCHP), the International Fund for Animal Welfare (IFAW), and Save the Rhino International recently issued a joint statement.
'Official rhino horn storerooms'
If history is any indication, then it is quite possible that a significant number of these rhino horn antiques – including cups and carved art objects – are headed for China.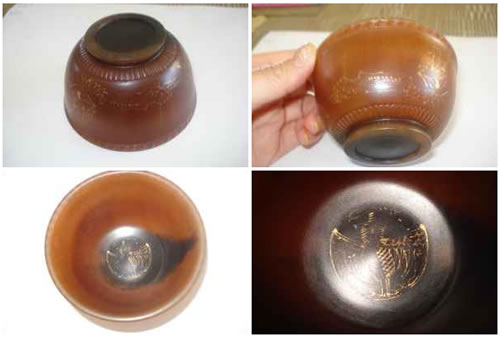 In 1990, world-renowned rhino horn and ivory trade expert Dr. Esmond Martin wrote about his trip to Beijing as a guest of the CITES Management Authority in an article entitled "Medicine from Chinese Treasures", published in Pachyderm.3
Dr. Martin visited what he described as the "official rhino horn storerooms" of various "pharmaceutical factories".
Inside locked rooms in godowns in Tianjin, Beijing and Guangzhou one sees a jumble of 25kg sacks, plastic bags, crates and boxes containing chips, powder, whole horns, together with the most amazing form of stock used for making medicine, that of antique rhino horn carvings.
According to Dr. Martin, the factories had been sourcing rhinoceros horn antiques both legally and illegally for decades.
The trading corporations and medicine factories have been purchasing rhino horn antiques from every possible source since the Revolution in 1949. Some have come from Chinese private collectors while others have been supplied by racketeers dealing in items stolen from the museums.
He noted that the Guangdong Drug Corporation "admitted to having already pulverized antique rhino horn cups".
No medicinal properties in rhino horn
At the root of the rhino crisis – which has killed more than 200 rhinos in South Africa since the beginning of the year – is the continued belief that rhino horn is a remedy for nearly everything, from headaches to cancer.
However, rigorous scientific analysis has proven that there is no medicinal benefit to consuming rhino horn.
---
Image #1: Wikimedia Commons; #2 © Saving Rhinos LLC; #3 craigslist.org, as of 07/26/2011
1, 2. European Union and its Member States. "Proposal by the European Union (EU) and its Member States for the 61st meeting of the CITES Standing Committee." (2011) CITES. Geneva, Switzerland.
3. Martin, E.B. "Medicines from Chinese Treasures." (1990) Pachyderm, Number 13.