Warning: Graphic images below.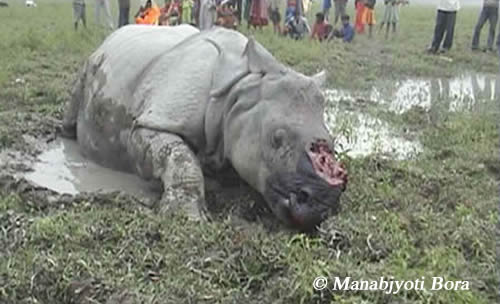 While there seems to be a considerable amount of media hubbub over a set of antique rhinoceros horn cups appraised on an American TV show today, very little (if any) attention has been paid to the original source of these cups.
The Chinese antique rhinoceros horn cups were said to be worth an extremely high dollar amount.*
The following is a partial list of today's news about these rhinoceros horn cups – all of which failed to note that for each of these cups, a rhino paid with his or her life.
You can also watch the video clip from PBS' "Antiques Roadshow" which shows the rhinoceros horn cups and the collector who owns them here.
'Lust' for rhino horn
China's historical lust for rhino horn – whether for carved objects (such as cups) or medicines that don't actually work – has managed (almost single-handedly) to decimate the Asian rhino populations to a combined total of just over 3,000 individuals.
Greater one-horned rhino (Rhinoceros unicornis) population: 2,949
Sumatran rhino (Dicerorhinus sumatrensis) population: 200
Javan rhino (Rhinoceros sondaicus) population: 48
Sadly, the lust continues.
And with so few rhinos left in all of Asia, heavily funded crime syndicates are turning to African rhinos to meet the demand for illegal rhino horn, which is still considered a key ingredient in Chinese medicines.
The plundering has reached a crisis level in South Africa, where already 200 rhinos have been killed this year.
WARNING: THIS VIDEO CONTAINS EXTREMELY GRAPHIC IMAGES.

The female rhino shown in the video was eventually euthanized, due the severity of her injuries.
---
*Updated 07/29/2011 to remove dollar amount.
Photo courtesy & © Manabjyoti Bora