South African voices sound the alarm.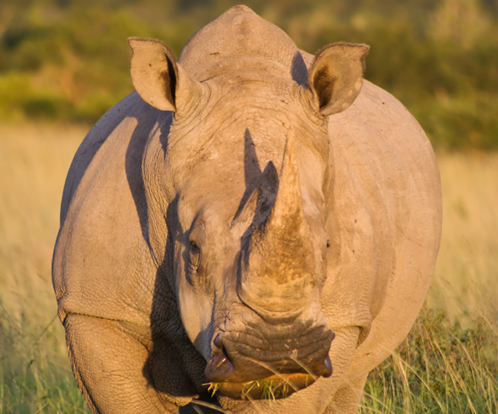 As connections between the South African trophy hunting industry and illegal rhino horn trade continue to be uncovered, some citizens say it is time to put an end to trophy hunting of rhinos.
Earlier this month, Africa Geographic reporter Ian Michler wrote the following in a blog post entitled "End the Mockery Now":
Developments over the last week in South Africa's rhino poaching crisis clearly indicate that trophy hunting is one of the largest contributing factors to the ongoing slaughter. This is the cue for the professional hunting bodies, both in this country and abroad, to play their part in attempting to solve this sorry saga. They need to call for an immediate moratorium on all hunting of rhino.
In a previous post, Michler asks:
If the current rate of decline from poaching constitutes a crisis that has elicited concerns for the survival of the species, why then for every two killed illegally do we allow another one to be killed legally? The thinking is nonsensical and defies all logic. And what chances the hunting fraternity will come forward with offers of a moratorium?
And it turns out Michler's views are shared by others.
Over the weekend, I received the following statement from the Anti-Poaching Group of Southern Africa (a private initiative that supplies intelligence to private and government anti-poaching units):
The members of Anti Poaching Intelligence Group Southern Africa call for a moratorium on "Trophy Rhino Hunting" in the Republic of South Africa, until such time as more stringent controls by an independent body can be implemented.

It has become abundantly clear that current controls and legislation of the Provincial Nature Conservation Bodies in the various provinces of South Africa are wholly inadequate. The current ethics committee's of P.H.A.S.A and C.H.A.S.A have no legal standing, and are only able to expel members that have contravened Nature conservation ordinances. Professional Hunters are still able to conduct hunts with other registered outfitters.

The issuing of permits to purchase and transport white rhinos to a major suspect awaiting trial on various charges relating to scam "Trophy rhino hunts" are a warning that all is not well in Limpopo Department of Nature Conservation, and we call for further investigation of this department by SARS and the Hawks.

The recent arrest of another professional hunter and outfitter involved in scam "Trophy rhino hunts" in Northwest Province, by the Northwest Department of Nature Conservation also warrants investigation by SARS and the Hawks.

We believe these scam "Trophy Rhino Hunts" could well have been the" spark that started the prairie fire ".

While current CITIES legislation has made the White Rhino (Ceratotherium simum simum) Appendix II for populations in South Africa and Swaziland, this is only for allowing international trade in live animals to appropriate and acceptable destinations and in hunting trophies.

We do not believe White rhinos hunted for their horns and exported to Vietnam, China, Thailand and Singapore to be used in T.C.M. can be classed as "trophies".
Meanwhile, the list of trophy hunters arrested and/or otherwise implicated in the illegal rhino horn trade continues to grow:
Indeed, it seems only a moratorium has a chance of stopping the madness: Even rhino horn trafficking suspect Dawie Groenewald has been issued hunting permits, allowing for the legal killing of rhinos. (Take a look at copies of the permits here.)
---
Image: © iStockphoto.com
Statement reprinted with permission, Anti-Poaching Intelligence Group of Southern Africa