The second annual World Rhino Day is approaching!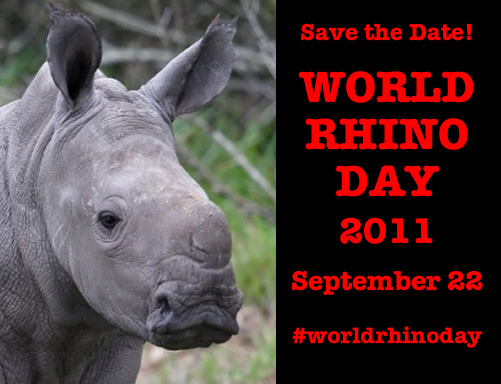 Just a short announcement to let everyone know that World Rhino Day 2011 is going to be here in a few short weeks: September 22nd is the big day!
Last year, WWF established World Rhino Day for people all over the world to take a stand against rhino poaching and the illegal trade in rhino horn.
This year, Saving Rhinos and friends around the world are continuing the tradition and invite rhino supporters to join together again on September 22nd to help raise awareness about the rhino crisis – and share the message that rhino horn is not medicine.
Twitter hashtag: #worldrhinoday
Grassroots: Our partners PARC/Nepal will be holding public awareness activities with local communities the Chitwan National Park Buffer Zone on World Rhino Day.
Facebook® Page: Our friends at Chishakwe (Zimbabwe) have already set up World Rhino Day 2011 – if you're on Facebook®, check it out!
TRAFFIC awareness campaign: Our friends at TRAFFIC Southeast Asia are featuring rhinos in September, as part of their "Twelve in Trouble" online awareness campaign!
More activities and friends will be added soon!
Stay tuned – we will be providing an abundance of details and information during the next few days!
---
Image: © iStockphoto.com