Could the tide be turning at last?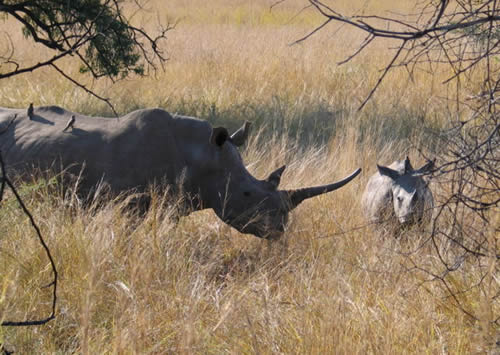 A ray of hope: The pace at which rhinos are being killed in South Africa has slowed over the past three months, according to several media reports released yesterday.
The encouraging numbers come from defenceWeb, which notes that since SANDF involvement, the numbers are improving in Kruger National Park.
Brigadier General "Koos" Liebenberg, director conventional operations at the Joint Operations Division of the SANDF said 40 rhino-related incidents were recorded in March. This fell to 30 in April, 15 in May and just two in June. By Wednesday, no incidents had been reported for July.
There has also been an increase in YTD arrests to 127, and military presence was stepped up in April.
The 165 soldiers of B-Company, 21 South African Infantry Battalion, deployed to the Sandrivier base near Skukuza in April and quickly became involved in "Operation Rhino", an inter-departmental, inter-agency joint operation to combat the illegal hunting and killing of the horned animal.
At least fifteen rhino killers were given a taste of their own medicine and another nine were injured when they clashed with authorities.
Figures released earlier this month by WWF show that nearly 200 rhinos had been killed in South Africa during the first six months of the year; SANParks updated the 2011 death toll yesterday to 222.
(Note: IOL.com cites the March figure overall as "more than 50" and reports four rhinos killed since June in Kruger National Park.)
'Khaki collar mafia'
South African National Parks' (SANParks) environmental inspection section head Ken Maggs said via defenceWeb that the "khaki collar mafia" is an area of particular concern.
This refers to the use of legal trade loopholes as a cover for rhino-related crimes, such as "permit violations, illegal hunting and rhino dehorning, horn possession, dealing and racketeering".
To learn more about South Africa's "khaki collar mafia" crimes, check out:
---
Image: Wikimedia Commons