Baby rhinos!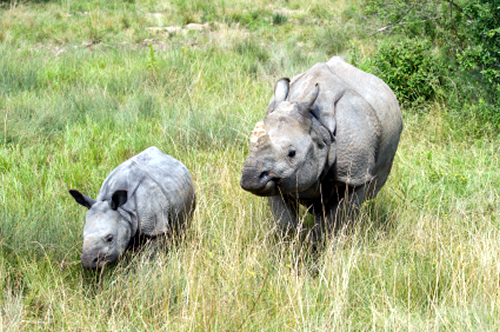 Wonderful news from India: Seven baby rhinos have been born during the last four months!
One of the new calves was born in Dudhwa National Park in Uttar Pradesh, and the other six (six!) in Jaldapara Wildlife Sanctuary, West Bengal.
Dudhwa's rhino population has now increased to 31 greater one-horned rhinos (Rhinoceros unicornis).
The Park's reintroduction of the species began with seven translocated rhinos in 1984. Union Minister for Environment and Forests Jairam Ramesh noted that this is a significant event.
The significance of this is that rhinos were translocated from Kaziranga to Dudhwa. The fact that now calves are being born shows that there has been great adaptability as far as the translocated rhinos are concerned. The birth of calves and (tiger) cubs shows protection to be secure.
Dudhwa National Park's "rhino zone" is protected by a solar-powered electric fence, and regular patrols are done on elephant back and vehicle.
Jaldapara Wildlife Sanctuary is now home to 161 rhinos, with the sanctuary experiencing a record birth rate for greater one-horned rhinos, according to Divisional Forest Officer (DFO) Omprakash.
Six calves were born in the sanctuary in the past four months and this is the highest birth rate in the past one decade. It means that there is no stress on the calves and no biotic pressure (on the animals) in the sanctuary.

We have intensified patrolling and improved the habitat of the rhinos in the sanctuary. We have improved the wallow pools in the forest. We hope that the rate of breeding will improve in future.
Last month, forest guards thwarted a rhino killing attempt in Jaldapara Wildlife Sanctuary.
Greater one-horned rhinos
One of the three Asian rhino species, greater one-horned rhinos (Rhinoceros unicornis) were once widespread throughout the northern floodplains and nearby foothills of the Indian sub-continent between Indo-Myanmar border in the east, and Sindh River basin, Pakistan in the west.
Today, the remaining 2,949 (includes Nepal's new census) greater one-horned rhinos are found only in a few protected areas in northeastern India and lowland Nepal.
Traditional medicine myths continue to threaten rhinos
Although the greater one-horned rhino population is steadily increasing, these rhinos remain under threat of being killed for their horn.
Despite the fact that extensive scientific analysis has confirmed that rhino horn has no medicinal value, myths and superstitions about rhino horn persist throughout China and Vietnam, where rhino horn is considered a key ingredient of traditional Chinese medicine.
---
Image: © iStockphoto.com