A very inspirational update from our partners in Nepal!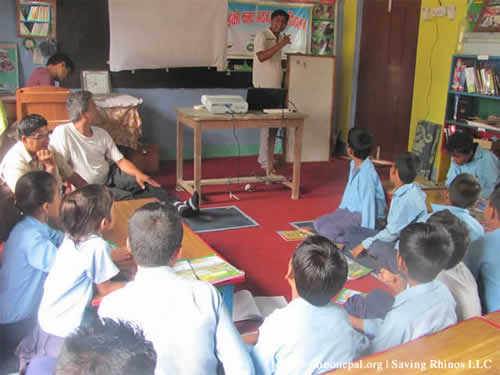 Rhino conservation efforts in Nepal received a big boost in awareness, thanks to the formation of "Eco-Clubs" in schools located in the Chitwan National Park Buffer Zone.
It was the team effort of our field liaisons at Partnership for Rhino Conservation (PARC/Nepal) working with the Chitwan National Park Buffer Zone Lothar User Committee that helped create Eco-Clubs at three different schools.
The goal of the Eco-Clubs is two-fold: 1) Creating conservation awareness at the local level, and 2) Taking a stand against illegal activities.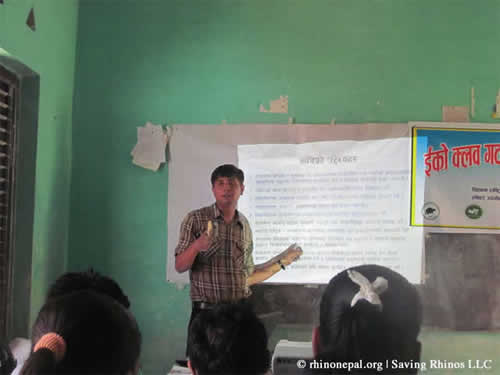 The future of conservation
The founder of PARC/Nepal, Suman Bhattarai, emphasizes the important role of children in the future of conservation.
Children are the drivers of the future. Without a doubt, responsibility of conservation will be in their hands. If we do not empower and sensitize them on time, there will be no continuity of conservation. It is of utmost importance for this generation to continue today's success stories, and also to develop new approaches for conservation.
It is with children in mind that PARC/Nepal and the Chitwan NP Bufferzone Lothar User Committee approached local schools with the Eco-Club idea.
At first, local schools were visited to collect view of students and teachers to form eco-club in their schools. During this visits, students and teachers were notified about the importance clubs. This notification helped to draw interests of schools, teachers and students to form clubs.
The efforts paid off: Three schools in the Chitwan National Park Buffer Zone now have their own Eco-Clubs!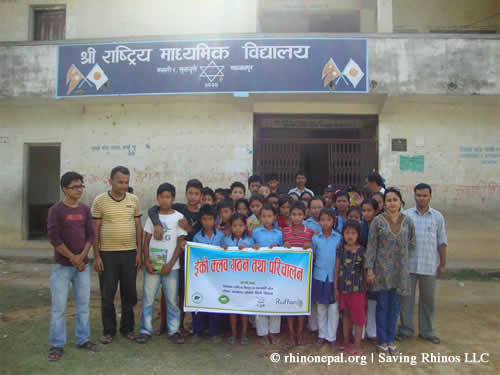 Eco-Club at Rastriya Secondary School, Manahari.
Phase I: Motivation
The Eco-Club formation was carried out in three phases. In the motivational first phase, students learned the basics.
What is an Eco-Club?
What are the objectives of an Eco-Club, and what does it do?
What are its working areas and key activities?
How can membership be provided to other interested students?
How does an eco-club make difference at local level?
How can the Eco-Club arrange resources for conducting activities?
What are conservation holidays and how can they be celebrated through an Eco-Club?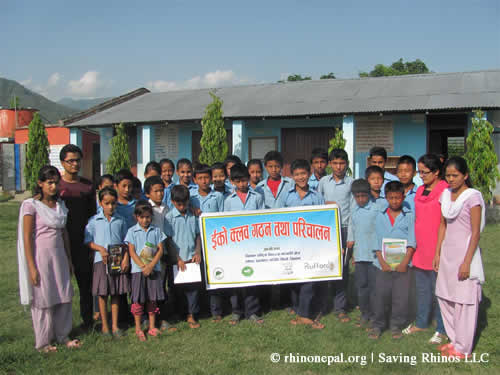 Eco-Club at Rastriya Lower Secondary School, Nayabasti.
Phase II: Formation
Once students had an understanding of the Eco-Club's purpose and the opportunities it could provide, some of the club members stepped up to form the committee which would be responsible for organizing the ongoing activities and keeping the members engaged.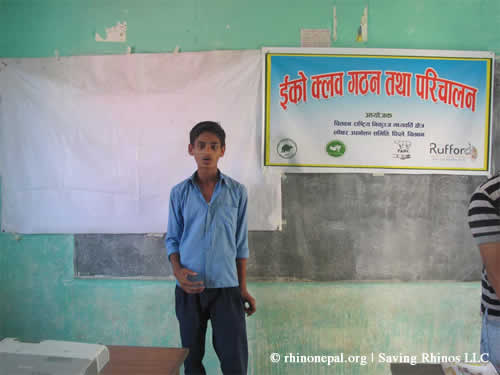 Eco-Club President (Rastriya Secondary School, Mahadevtar).
In addition, a teacher was nominated as the committee's patron, while the corresponding school's headmaster would serve in an advisory capacity.
Phase III: Responsibilities
Following the formation of the Eco-Club, the committee members immersed themselves in their new responsibilities. The committee President, Vice President, Secretary, and Treasurer were given individual coaching in their roles by the project facilitators. For example, the Treasurer learned about keeping income and expenditure records.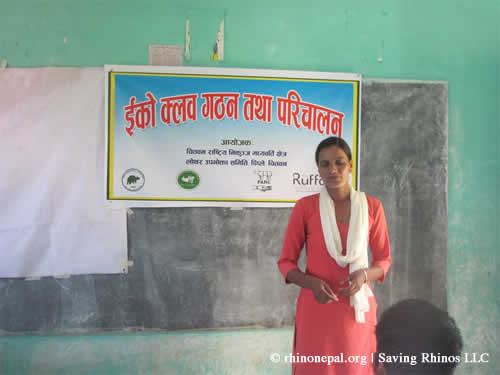 Eco-Club Patron (Environment teacher – Rastriya Secondary School, Mahadevtar).
The committee also held brainstorming sessions to come up with innovative income-generating ideas.
Moving forward
There are currently three schools participating in the Eco-Club project:
Rastriya Secondary School, (Mahadevtar, Piple, Chitwan)
Rastriya Lower Secondary School, (Nayabasti, Piple, Chitwan)
Rastriya Secondary School, (Sunachuri, Manahari, Makawanpur)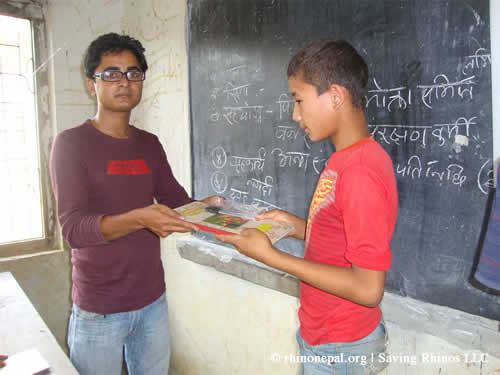 Handing over the minutes book to Eco-Club Secretary.
To help the Eco-Clubs move forward, PARC/Nepal and the Chitwan NP Lothar User Committee committed to providing a small fund to the clubs for the first year.
Eco-Club impact
The Rastriya Lower Secondary School Eco-Club has already raised funds with a rhino conservation drama, performed by the club members. The schools also celebrated World Environment Day by holding a conservation song competition.
The Eco-Club project facilitators are Uttam Luitel, Deepa Paudel and Suman Bhattarai.
Greater one-horned rhinos in Nepal
One of the three Asian rhino species, greater one-horned rhinos (Rhinoceros unicornis) were once widespread throughout the northern floodplains and nearby foothills of the Indian sub-continent between Indo-Myanmar border in the east, and Sindh River basin, Pakistan in the west.
Nepal's most recent rhino census found that the population of greater one-horned rhinos has increased to 534. The count was conducted in April 2011, and revealed an increase of 99 rhinos since the last count in 2008.
Chitwan National Park was found to have 503 rhinos, while 24 reside in Bardia National Park, and Shukla Phanta Wildlife Reserve holds seven of the precious pachyderms.
Today, the remaining 2,949 (includes the new census) greater one-horned rhinos are found only in a few protected areas in northeastern India and lowland Nepal.
WARNING: THIS VIDEO CONTAINS EXTREMELY GRAPHIC IMAGES.

Traditional medicine myths continue to threaten rhinos
Although the greater one-horned rhino population is steadily increasing, these rhinos remain under threat of being killed for their horn.
Despite the fact that extensive scientific analysis has confirmed that rhino horn has no medicinal value, myths and superstitions about rhino horn persist throughout China and Vietnam, where rhino horn is considered a key ingredient of traditional Chinese medicine.
How to help
To learn more about our efforts to help support public awareness activities in Nepal, check out Update from Nepal: A Successful Year of Raising Public Awareness About Rhino Conservation.
We appreciate your help in educating others through sharing our articles, and for your continued support through rhino t-shirt sales.
---
All photos courtesy and © Suman Bhattarai; PARC/Nepal and Saving Rhinos LLC.