Is there something sinister lurking behind South Africa's legal rhino trade?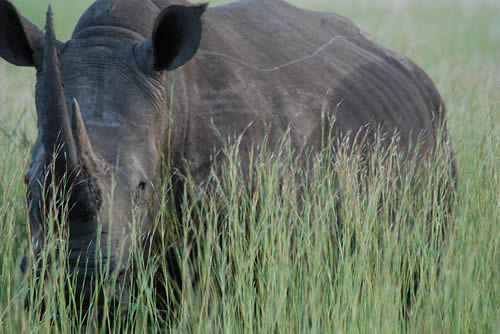 As the rhino death toll continues to rise in South Africa, disconcerting information regarding the country's legal rhino trade continues to emerge.
One of the most well-known ("alleged") exploiters of legal trade loopholes is Dawie Groenewald of the notorious "Groenewald gang", who legally purchased a significant number of rhinos prior to his arrest in September 2010.
Investigators later found a mass grave of 20 de-horned rhinos on Groenewald's property.
Groenewald's heinous activities are part of a deadly scourge – using rhino trade loopholes to launder rhino horn – and there is no shortage of others like him, who are more than willing to cash in on medicinal myths about rhino horn.
Let's take a look at the scams and schemes.


Public documents obtained from South Africa's Parliamentary Monitoring Group website indicate that in 2008, a "Mr. J.F Hurne" purchased at least six rhinos at auction and subsequently delivered them to a "Mr. D. Groenewald". *


More recently, there is unconfirmed information circulating via mass email and social media networks of a 2011 transaction between Dawie Groenewald and a "Mr. John Hume" (a prolific game rancher mentioned in Bloomberg) involving the sale of nine rhinos. Update 07/14: It is now confirmed by IOL that Groenewald "has a contract" to buy nine rhinos. If the deal goes through, three male rhinos will be sent to Groenewald's Prachtig property and the six female rhinos will be sent to Hume's ranch.
Hume is (by his own admittance to Bloomberg) an advocate of legalized trade in rhino horn, and connected to professional hunter Peter Thormahlen, who was twice arrested for suspected involvement with Vietnamese "pseudo-hunts."
Even Peter Thormahlen has been prosecuted for leading hunts feeding the horn trade. In 2006 at the Loskop Dam Nature Game Reserve, he paid a token fine after his Vietnamese hunter casually told an official that he did not know how to shoot.

The second time, in Limpopo province in 2008, Thormahlen was indignant and fought the citation in court with the help of lawyer Tom Dreyer.
(Thormahlen's second case was dismissed.)
'A significant number of rhinos'
According to the publicly available document referenced above, which shows a series of rhino transactions from 2007 to 2010, Dawie Groenewald and/or a "Mr. D. Groenewald" seems to have acquired a significant number of rhinos between 2008 and 2010. Take a look:
2008



Six rhinos previously referenced:


Here's a rather large acquisition worth noting (2009):


Meanwhile, copies of permits granting Dawie Groenewald permission to "hunt or convey" white rhinos – issued despite his arrest in 2010 – are circulating via email and have now surfaced on various social media networks, such as Facebook®.
Take a look at the permit copies here.
(If you are using Facebook®, you can easily locate these images.)
Laundering rhino horn with hunting safaris
Just days ago, a Thai national named Chumlong Lemtongthai was arrested – along with five Thai "hunters" – in South Africa.
Lemongthai had allegedly arranged rhino hunting expeditions for the purpose of buying the horns from the hunters. He would then ship the horns abroad to be used illegally in traditional Chinese medicine.
However, the identity of the South African trophy hunt operators who aided Lemongthai remains unclear.
WARNING: THIS VIDEO CONTAINS IMAGES OF HUNTING.
To learn more about how South African hunting safaris are used as a front for trafficking illegal rhino horn, check out Mules Hunting Rhinos? Sinister Scam Unfolds in South Africa.
China's rhino horn scheme
It is highly unlikely that China's multimillion dollar rhino farming scheme could have developed without South Africa's willingness to legally export over 100 live rhinos to China between 2007 and the present.
Despite the fact that China (along with Vietnam) had already been implicated as a destination for illegal rhino horn sourced from Southern Africa , at least 18 rhinos were exported to China from South Africa during a six-month period in 2010.
What is particularly disturbing about these multiple rhino deals between South Africa and China is that in addition to the escalation in rhino killings between 2008 and the present, there was no shortage of indicators that should have been noted by the country of export, South Africa.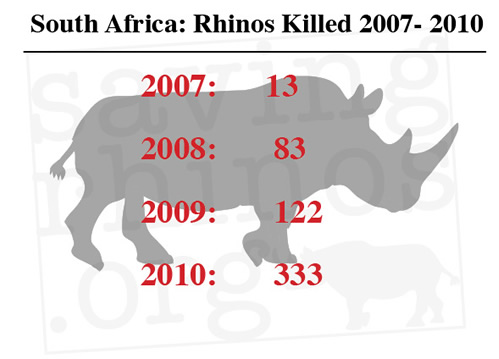 The first was in 2007, when the Chinese government infused traditional Chinese medicine research with USD $130 million – five times more than the previous year's budget – to "standardize and modernize" traditional Chinese medicine. How did this not pique the interest of authorities?
Then in 2008, a Chinese research proposal revealed the location of China's "rhino farm" and "horn harvesting experiments", along with intentions to circumvent CITES. For additional information, see:
Another Chinese research proposal recommends the acquisition and stockpiling of rhino horn. Check out the following to learn more:
Why does this matter?
This matters because there is growing evidence which strongly suggests that widespread abuse of South Africa's existing legal trade loopholes is fueling and feeding the demand for rhino horn, and camouflaging the illegal rhino horn trade.
The extent to which the illegal rhino horn trade is being aided and augmented by legal trade in South Africa – both in live rhinos and trophy exports – is indeed unsettling, and is certainly deserving of deeper scrutiny.
---
Image: Wikimedia Commons
* In the public document referenced above, "Mr. D. Groenewald" may or may not refer to Dawie Groenewald.