Yet another senseless tragedy.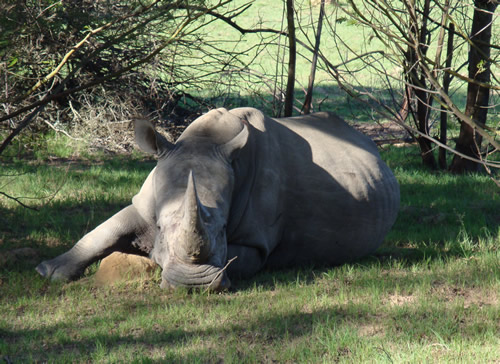 The young bottle-fed, hand-raised Southern white rhino featured on the BBC's "Last Chance to See" program has reportedly been killed for his horns in Kenya. "Max" was only five years old.
According to Wanderlust, the program's presenters, Mark Carwardine, and Stephen Fry, have been tweeting about the tragedy. Carwardine also tweeted this photo of Max.
Mark Carwardine described Max in his book (Last Chance to See) as being "the tamest rhino in Africa".
We patted Max on the head, introduced ourselves, and took some photographs. A storm was gathering and the sky was threatening and deep, dark blue. A rainbow appeared above Max's head. It was an incredible, once-in-a-lifetime photo opportunity.
Read the entire excerpt about Max from Last Chance to See here.
---
Image: Wikimedia Commons