Namibia remains relatively unscathed by the scourge.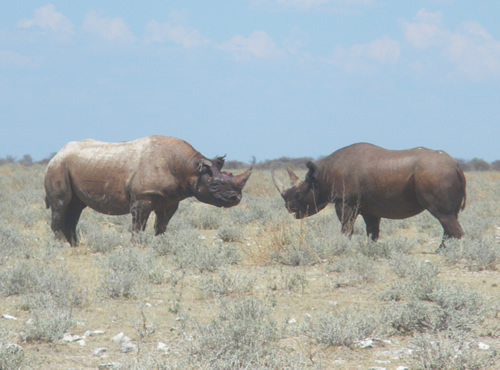 Namibian authorities have determined that a rhino found dead with both horns removed was not the victim of foul play.
The missing horns prompted an investigation after the rhino's carcass was discovered at the Wabi Game Lodge.
However, Namibia's Permanent Secretary of the Ministry of Environment and Tourism, Dr. Kalumbi Shangula said via The Namibian that the rhino had not been killed for the horns.
No bullet wounds were found on the carcass. It was an old animal, it might have died from natural causes.
Unfortunately, the horns are likely to have entered the illegal market already.
Despite 200 rhinos killed this year in neighboring South Africa, there was just one suspected case in Namibia in 2010.
Rhino hotline
In May 2011, Namibia's Minister of Environment and Tourism, Hon Netumbo Nandi-Ndaitwah, launched a new SMS hotline.
The public is advised to call 55555 if any unusual activities are noticed.
Illegal rhino horn
Rhinos are still being killed with alarming frequency, due to the demand for illegal rhino horn, a sought-after ingredient in traditional Chinese medicine.
However, rhino horn's alleged efficacy is based on a myth, as scientific analysis has determined that rhino horn is of no medicinal value.
---
Image: Wikimedia Commons