WWF speaks out for rhinos.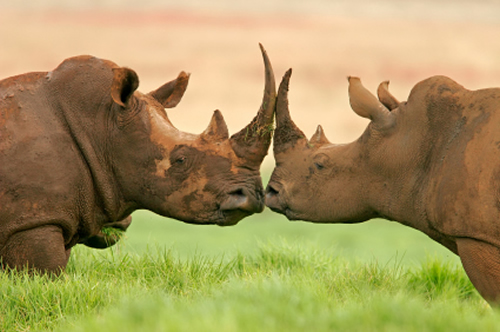 One of the word's largest environmental organizations, World Wide Fund for Nature (WWF), made a most welcome statement in yesterday's media release by opposing bail for rhino crimes – and acknowledging the fact that rhino horn has no medicinal properties.
In an announcement bearing the tragic news that South Africa has already lost nearly 200 rhinos to the illegal rhino horn trade this year, WWF made its position clear regarding how rhino crimes are handled by the country's judicial system.
According to WWF, criminals who are out on bail continue to put rhinos at risk and can interfere with the legal process.
WWF opposes the granting of bail to poaching suspects due to the gravity of their crimes and their high flight risk. Suspects at large continue to pose a threat to rhinos and can cause delays to judicial proceedings.
It was noted that out of 123 arrests made so far in 2011, there have been six convictions. Last year, 165 arrests resulted in four successful prosecutions.
In addition, the organization stated that there is no scientific basis for the belief that rhino horn is a remedy.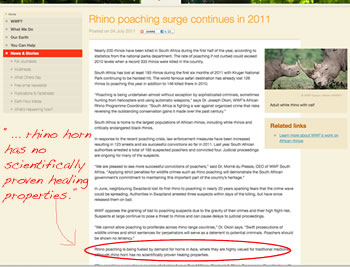 Rhino poaching is being fueled by demand for horns in Asia, where they are highly valued for traditional medicine, although rhino horn has no scientifically proven healing properties.
Read the entire media release at Rhino poaching surge continues in 2011.
(Interesting: The China Post omitted "although rhino horn has no scientifically proven healing properties" in its version. Read it here.)
Learn more
More articles about rhino horn:
See also South Africa: 2011 Rhino Death Toll Surges to 200.
Help raise awareness about the rhino crisis
Want to help? Check out our awareness campaigns:
Visit Saving Rhinos to learn more.
---
Image © iStockphoto.com