The slaughter continues unabated.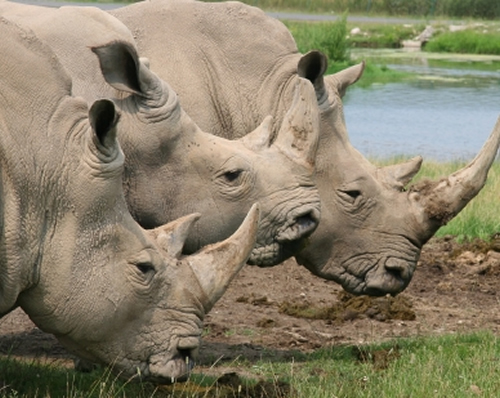 New figures released today by WWF indicate that South Africa's rhino crisis is not improving, and appears to be getting worse. Nearly 200 of the country's iconic pachyderms have been slaughtered during the first half of 2011, thanks to continued use of illegal rhino horn in China and Vietnam.
Rhino horn is a prized ingredient in traditional Chinese medicine, although scientific analysis has shown there are no medicinal properties in rhino horn.
International criminal networks
South Africa's onslaught is being orchestrated by international criminal networks using helicopters and automatic weapons to wipe out rhinos in nearly every part of the country, from national parks to privately-owned game ranches.
WWF's African Rhino Programme Coordinator, Dr. Joseph Okori warned that these operations have jeopardized the country's successful history of rhino conservation.
South Africa is fighting a war against organized crime that risks reversing the outstanding conservation gains it made over the past century.
Of the 200 rhinos killed this year, a whopping 126 of them were gunned down in South Africa's famed Kruger National Park.
WWF opposed to bail
Dr. Okori further noted that his organization opposes bail for rhino crimes.
Swift prosecutions of wildlife crimes and strict sentences for perpetrators will serve as a deterrent to potential criminals. Poachers should be shown no leniency.
He pointed out that suspects who are out on bail continue to pose a threat to rhinos, and also contribute to delays in court proceedings.
In 2010, 165 people were arrested in South Africa for rhino crimes; four were convicted. So far this year, out of 123 arrests, there have been six convictions. Some cases are still ongoing.
Enforcement needed 'at both ends'
Besides South Africa's efforts to get a grip on the rhino crisis, cooperation is needed from rhino horn consumer countries, according to Dr. Tom Milliken of TRAFFIC, the wildlife trade monitoring network.
Only a concerted international enforcement pincer movement, at both ends of the supply and demand chain, can hope to nip this rhino poaching crisis in the bud.
TRAFFIC's research revealed that the majority of rhino horn leaving southern Africa is destined for consumer markets in China and Vietnam.
Arrests within wildlife community
In addition to the assault from the East, the rhino crisis is exacerbated by greed from inside South Africa's borders.
A disconcerting number of arrests have been made within the country's own wildlife community; the crimes are frequently perpetrated under the cover of South Africa's legal rhino trade loopholes.
Suspects include professional hunters (and/or their clients), game farmers, veterinarians, and game reserve employees:
Regarding suspect Dawie Groenewald, Ian Michler of Africa Geographic notes that he is still in operation.
Not only does the man still carry his hunting licences, but the provincial authorities continue to issue him with permits to hunt and move rhino around the country. Bear in mind that magistrates deemed the charges serious enough to set bail at a whopping R1 million. Despite this, he *or* his company has seemingly been issued with at least 12 rhino hunting permits in the last few months, and they have been granted permits on at least 8 occasions to "convey" rhino, not to mention a host of other species.
Dawie Groenewald's bail amount was reduced earlier this year from R 1 million (USD $147,065) to R 100,000 (USD $14,705) by the Musina magistrate's court in Limpopo.
The case is expected to resume in September 2011.
Among the litany of charges faced by Groenewald and his henchmen are assault, fraud, corruption, malicious damage to property, illegal possession of firearms and ammunition, and contravention of the National Environmental Biodiversity Act.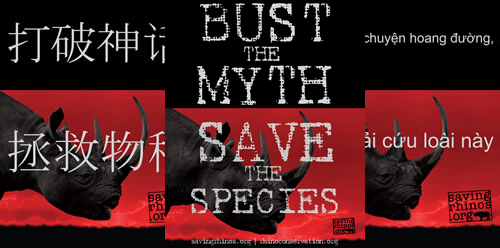 Help raise awareness about the rhino crisis
Want to help? Share this article and check out our awareness campaigns:
Visit Saving Rhinos to learn more.
---
Image #1 © iStockphoto.com; #2 © Saving Rhinos LLC