Rhino horn has no curative benefits, no medicinal properties, and no magical powers.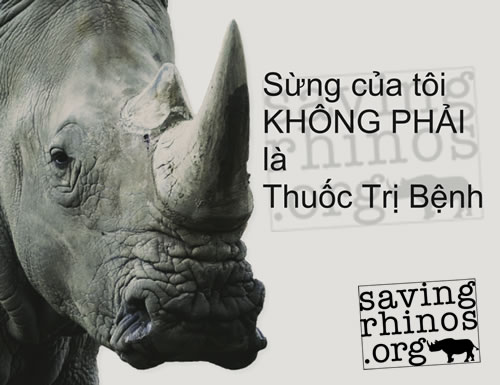 A woman in Hanoi became sick after consuming a rhino horn mixture to treat a rash around her mouth. She reportedly paid a large sum of money for the "treatment" – and then ended up in Bach Mai Hospital when her symptoms worsened.
According to Education for Nature Vietnam (ENV) and VnExpress, the woman used the rhino horn concoction for two days and then developed erythema, along with itching and burning on her face. The reaction spread to her arms and she had a mild fever.
She then paid a visit to the Clinic of Asthma and Allergies – Autoimmune Center Allergy – Clinical Immunology Bach Mai Hospital, where she was diagnosed with an allergic reaction due to use of rhino horn.
Dr. Nguyen Huu Truong of the Center for Clinical Immunology was quoted as saying that the therapeutic use of rhino horn is unproven, and that "rhino horn is quite likely to cause allergic reactions and toxicity" if consumed.
At this time, there is no word on whether or not the woman and her supplier have been arrested, as this type of trade in rhino horn is prohibited by international law.
To learn more about how organized crime syndicates are using "hunting safaris" as a front for running rhino horn from South Africa to Vietnam, check out:
How to help
Want to help debunk the myths about rhino horn? Share this article – Busting the Rhino Horn Myth with Science – and check out our posters and t-shirts.
All of the following are translated into Vietnamese:
Learn more about our public awareness campaigns:
---
All designs and images © Saving Rhinos LLC