Pobitora Wildlife Sanctuary hit after five years of peace.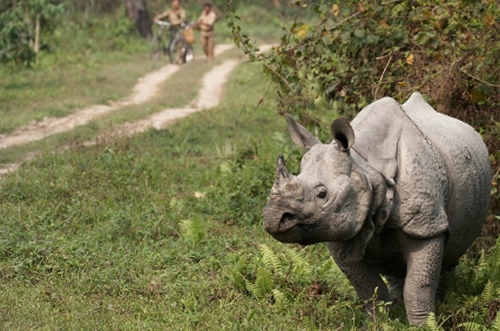 An armed gang of rhino killers used six bullets from a .303 rifle to murder a rhino last weekend in Assam's Pobitora Wildlife Sanctuary. The gang fired at forest guards and escaped under the cover of darkness with the rhino's horn.
A schoolteacher, Faizul Karim, has been arrested in connection with the tragedy.
Divisional forest officer of the Guwahati wildlife division, S.K. Seal Sharma, noted via The Telegraph that the killing could not have occurred without the cooperation of people living nearby.
The incident could not have happened without local support. Investigations are on and we will catch the culprits.
Indeed, Karim, who is being held for harboring the gang, is a resident of Kurahibori village near the sanctuary. He is a teacher at Borbori Lower Primary School.
Killing disrupts five years of peace
Prior to last weekend's tragedy, there had not been a rhino killing incident in Pobitora Wildlife Sanctuary since 2006.
Between 2000 and 2005, eight rhinos were murdered for their horns in Pobitora. The last reported incident was in February 2006, when the rhino wandered outside of the Sanctuary.
Additionally, eight gang members were arrested between 2005 and 2008. Seven were Bangladeshi immigrants and the eighth was from the notorious illegal wildlife trading hub of Nagaland.1

Pobitora Wildlife Sanctuary is currently home to about 84 greater one-horned rhinos (Rhinoceros unicornis) living in an area of 38.81 km2 (14.9846 mi2) – the highest density of greater one-horned rhinos in the world.
Greater one-horned rhinos
One of the three Asian rhino species, greater one-horned rhinos (Rhinoceros unicornis) were once widespread throughout the northern floodplains and nearby foothills of the Indian sub-continent between Indo-Myanmar border in the east, and Sindh River basin, Pakistan in the west.
Today, the remaining 2,949 (includes Nepal's new census) greater one-horned rhinos are found only in a few protected areas in northeastern India and lowland Nepal.

Traditional medicine myths continue to threaten rhinos
Although the greater one-horned rhino population is steadily increasing, these rhinos remain under threat of being killed for their horn.
Despite the fact that extensive scientific analysis has confirmed that rhino horn has no medicinal value, myths and superstitions about rhino horn persist throughout China and Vietnam, where rhino horn is considered a key ingredient of traditional Chinese medicine.
---
1. Martin, E., Talukdar, B.K. and Vigne, L. "Rhino Poaching in Assam: Challenges and Opportunities." Pachyderm No. 46 July-December 2009
Image: istockphoto.com