The disturbing connections continue.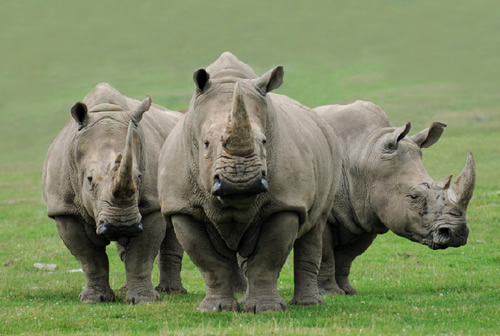 Nearly a year after we began raising questions about the connections between China's traditional medicine industry investments, research proposals about rhino horn harvesting, and live rhino imports, our suspicions have been confirmed: China has indeed been plowing millions of dollars into building a thriving industry based on the medicinal use of rhino horn.
Additional investigation done by TIME has revealed more details of the shocking scheme.
Troubling proposal
July 20th, 2010: We published the article Revealed: Location of China's Rhino Farm and 'Horn Harvesting' Experiments, which referenced a 2008 document entitled Proposal for Protection of the Rhinoceros and the Sustainable Use of Rhinoceros Horn.1
The rhino "farm" – referred to as the Sanya City Center for artificial propagation of the rhinoceros – is reportedly located in China's Hainan Province.
It turns out that one of the authors of the proposal, Jia Qian, is the retired head of the National Traditional Chinese Medicine Strategy Research Project.
And, according to TIME (June 2011), Jia is also "part of a secretive, multimillion-dollar Chinese effort to cultivate rhinos for their horn".
Jia was quoted as saying that he believes rhino horn is a remedy for "everything from fevers and brain hemorrhages to SARS and AIDS".
"The reason the Chinese government hasn't used rhino horn for these diseases is because some people were Western trained and tainted by Western thought," says Jia. "Other people were weak and gave in to foreign pressure."
Jia is said to be campaigning to "relegalize" the use of rhino horn in traditional Chinese medicine.
Rhinos arriving in China
August 3rd, 2010: We noted more disturbing activity in Chinese News Reports Arrival of 12 Rhinos from South Africa and again on December 19th, 2010, when six more rhinos were reported (Reports of More Rhinos Arriving in China from South Africa).
In total, at least 18 rhinos were imported to China from South Africa between June and December 2010, and the Shi Lin Longhui Wildlife Research Center Co., Ltd. was said to have imported some of these rhinos.
Rhino horn 'research'
November 17th, 2010: We published Chinese Researchers Hope to Turn Rhino Horn Cultivation into Thriving Enterprise While Avoiding CITES Scrutiny amid fears that "research" would turn out to be Chinese doublespeak for something akin to bear bile farming.
Indeed, additional details have confirmed those fears.
Longhui (see above) is part of a business portfolio owned by the Hawk Group.
Based in Manchuria, in China's northeast, the company oversees an eclectic business portfolio. It is mainly an arms manufacturer. But the company — which is headed by Zhang Juyan, a member of China's National People's Congress — also dabbles in traditional Chinese medicine through a subsidiary called Longhui. That arm oversees a zoo in the eastern Chinese city of Hangzhou as well as Hainan's Africa View park.
Longhui even published a business plan for the purpose of manufacturing rhino horn "medicines" with a projected annual revenue of USD $60 million.
This project is principally engaged in the rhino horn as the main raw materials of Chinese medicine and other drugs in the development, production and distribution. Meanwhile, Long Hui Pharmaceutical Co., Ltd. in order to ensure a "rhino horn" raw materials supply, construction of Sanya City in Hainan Province, covering an area of 2000 mu of rhino breeding and ornamental base for rhino breeding and research …
Check out more of the "rhino horn supply" business plan here.
Rhinos in 'rows of concrete pens'
Another disturbing revelation is that a photographer who visited the "Africa View" safari park found no animals – except for approximately 60 rhinos.
No animals were in evidence, save 60 or so rhinos living in rows of concrete pens, which he photographed. Africa View still has not opened; locals say construction in the park has ceased.
"Africa View" is part of the same business portfolio as Longhui, owned by the Hawk Group, which as noted above, is primarily an arms manufacturer.
Different stories
Apparently, at the CITES CoP15 in March 2010, attendees say that Chinese delegate Liu Xiaoping attempted to put "rhino farm" rumors to rest.
China had absolutely no plans to dehorn South African rhinos and deviate from the terms of its import licenses or rescind its ban on using the animal's body parts, Liu said indignantly, according to the testimony of other participants.
But Liu has since changed his story.
Speaking to TIME, Liu now denies having said in Qatar that China had no intention of farming rhinos for their horn and refuses to speak further on the subject.
Reporters from TIME did, however, get the opportunity to speak with Wang Yujia, a media-department representative at the Hangzhou Wild Animal World.
"Rhinos are very precious animals, and their horns are most valuable as medicine," she said, confirming that the project's focus has not been tourism. "Our group runs a pharmaceutical company that makes those drugs. It's all part of the same system."
It is interesting to note that a 2006 document prepared by China's CITES Management Authority clearly states that rhino horn can be researched only if the purpose of the research is to identify a substitute for its use in traditional Chinese medicine.2
[The Notification] also requires registering and sealing up all rhino horn, tiger bone and their products (except for uses on researches of substitutes).
Really, China?
CITES CoP16 in 2013
Here we are in the midst of a devastating rhino crisis which has seen the brutal murders of over 160 rhinos in South Africa alone since the beginning of the year.
Stopping the slaughter depends on reducing the demand for rhino horn – which has been rigorously analyzed and contains no medicinal properties.
Instead of adhering to its obligation as a CITES signatory, China is pumping millions of dollars into encouraging demand for rhino horn, playing the cultural card, when in reality, this enterprise is about nothing except turning a profit.
The 16th meeting of the Conference of the Parties (COP 16) to the Convention in International Trade in Endangered Species of Wild Fauna and Flora (CITES) is expected to convene in March 2013, in Thailand.
What will China have to say for itself in 2013?
(Update: The issue is expected to be brought up in August 2011 at the CITES Standing Committee meeting in Geneva.)
See also:
Be sure to check out the book Murder, Myths & Medicine – especially "Chapter Four:Chinese Coincidences" – published in February 2011.
---
1. Yanyan, D., Qian, J. (2008). Proposal for Protection of the Rhinoceros and the Sustainable Use of Rhinoceros Horn. State Soft Sciences Project, Development Strategy for Traditional Chinese Medicine Research. China Institute of Science and Technology, Beijing.
2. CITES Management Authority. (2006). Report on Implementing Resolution Conf.12.5 of CITES. People's Republic of China.
Image: istockphoto.com