Police prevailed during a skirmish in the battle to protect South Africa's rhinos.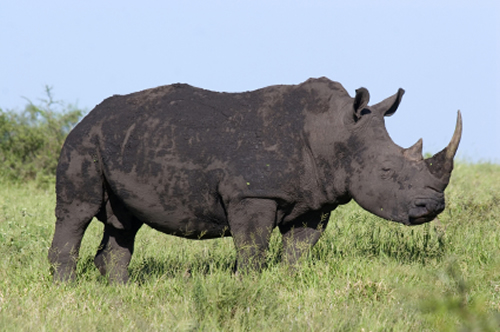 One suspected member of an international rhino horn syndicate was fatally shot and another wounded during a sting operation on a private game reserve near South Africa's Kruger National Park.
Eight suspects in total, including two South Africans, were reportedly arrested.
The wounded individual is said to be a sniper from Mozambique.
Gang busted by 'fake' rhino
According to South Africa's Eyewitness News, a "fake" rhino was placed on the reserve after police were tipped off about possible syndicate activity.
Police set up a trap on Friday after receiving information that a gang was planning to target a private game reserve near the Kruger National Park. A dummy rhino was then placed in the reserve, while police lay in wait.

When the gang shot at the rhino, police fired at the gang killing one suspect and critically wounding another.
Fortunately, no rhinos were harmed in the operation.
Read the entire article at 8 rhino poachers arrested.
Rhino killing spree
South African National Parks (SANParks) noted on May 20th that at least 159 rhinos have been murdered in South Africa in 2011.
The total number of rhinos killed reached a staggering 333 in South Africa last year.
At the root of this killing spree is the continued use of illegal rhino horn in traditional Chinese medicine, which is still sought after in both China and Vietnam.
However, rhino horn has been rigorously analyzed and actually contains no medical properties whatsoever. (Read the entire article at Busting the Rhino Horn Myth with Science.)
Corrupt factions fueling the rhino crisis
Unfortunately, it cannot be overlooked that corrupt factions within South Africa's own wildlife conservation community have shared responsibility for fueling the country's rhino crisis.
In addition to the high-profile "Groenewald gang", a shocking number of arrests have involved professional hunters, safari operators and others entrusted to protect rhinos:
See also:
---
Image: istockphoto.com