Our 'Rhino Horn is Not Medicine' awareness campaign is now trilingual!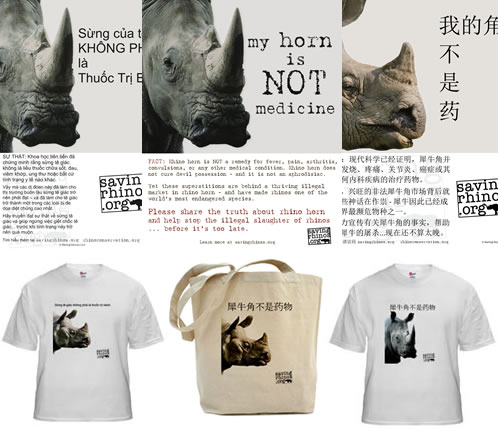 We are pleased to announce that our most popular public awareness materials are now available in Chinese (Mandarin) and Vietnamese!
Our flagship Rhino Horn is Not Medicine posters and t-shirts have been translated especially for wildlife supporters and friends of the rhino in China and Vietnam.
Global campaign to protect rhinos
In response to email queries and geographic data collected from website traffic, it is clear that wildlife advocates in the two countries identified as rhino horn destinations – China and Vietnam – are eager to join the global campaign to protect rhinos from the illegal trade in rhino horn.
Based on requests for translated materials, the most popular items are now available to all.
Additional translated materials will be available soon. Links to the t-shirts and posters are at the end of the article, or visit the new campaign page on our website now.
Support is growing for wildlife conservation
Wildlife conservation and animal advocacy is supported by a growing number of citizens in Southeast Asia and China, especially among the younger demographic.
Many celebrities are speaking out against illegal wildlife trafficking.
We like this quote from Jackie Chan, in the book Black Market: Inside the Endangered Species Trade in Asia.
If our descendants have to ask us why they can only see animals like rhinoceroses in paintings and photographs, how can we tell them that it's because some people among our ancestors felt that rhinoceros horns had medicinal value and killed them?
A doctor speaks up for rhinos
In September 2010, Dr. Albert Lim Kok Hooi, a consulting oncologist based in Kuala Lumpur, published a most welcome article in Malaysia's popular online news portal, The Star Online in which he dismissed the notion of rhino horn's effectiveness as a medicine.
A lingering cultural belief in traditional medicines (most are based on TCM) in Southeast Asia, and the impact on rhino conservation efforts prompted Dr. Hooi speak up on behalf of the embattled pachyderms.
To all this, I say that something that works for everything usually works for nothing. I also say that something that has been used for hundreds or thousands of years does not make it right.
The oncologist sums it up in a compassionate statement underscoring the fact that rhino horn contains no curative properties.
The whole sad story of killing the rhino for its horn is not only criminal, it is cruel, immoral and unforgivably, without any scientific basis.
Although Dr. Hooi comes from a generation whose medical knowledge was shaped by myths about the alleged magical powers of animal parts, he realizes that these notions have no place in modern medicine.
CITES Secretariat
The following is from the 2010 CITES Report of the Secretariat, CoP15 Doc. 45.1 Interpretation and implementation of the Convention – Species trade and conservation: Rhinoceroses:
The Secretariat is also very conscious, however, of the need to respond to the belief that rhinoceros horn is efficacious in the treatment or prevention of cancer. It is despicable that criminals are financially exploiting sufferers, and their relatives, at a time when they will be struggling to cope with distressing and sometimes terminal medical conditions.
About the t-shirts and posters
The translated t-shirt message is Rhino Horn is Not Medicine. International shipping to China, Vietnam, and most other countries!
Please note all merchandise is available online only.
The translated poster message reads: FACT: Modern science has proven that rhino horn is not a remedy for fever, pain, arthritis, cancer or any other medical condition. Yet these myths are behind a thriving illegal market in rhino horn – and have made rhinos one of the world's most endangered species.
Download posters:
Visit the Chinese (Mandarin) and Vietnamese campaign page on our website.
Read the article Busting the Rhino Horn Myth with Science.
---
All designs and images © Saving Rhinos LLC