A Limpopo farm is the scene of South Africa's latest rhino atrocity.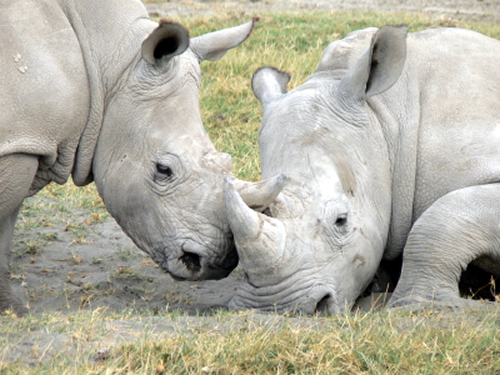 A mother rhino and her four-month-old calf were reportedly found dead on a farm in South Africa's Limpopo Province over the weekend, gunned down by killers armed with hunting rifles. The horns of both rhinos were missing and the calf's toenails had been removed.
The farm is located near Mookgophong (Naboomspruit).
South Africa's Times Live reported that the farm's owner and an employee were arrested when various unlicensed firearms and ammunition were found in their possession.
Police also arrested the farm's 60-year-old owner and a worker on Saturday after unlicensed firearms, a pistol and hunting rifles, as well as 1944 rounds of ammunition, were found.
The suspects were released on R25,000 bail (USD $3,799) and scheduled to return to court on Tuesday.
According to Beeld, the arrested parties are Dr. Walter Ward and Saki Kekana.
This tragedy brings South Africa's rhino death toll to more than 140 since the beginning of the year.
Not the first rhino toenail incident
Although trade in rhino toenails is less well known outside of Asia, it is unfortunately not new, and the incident in Limpopo is not the first involving rhino toenails.
In 1990, rhino horn trade expert Dr. Esmond Martin found rhino toenails for sale in Bangkok medicine shops catering to the Chinese population. The nails were fetching a fraction of the price of rhino horn.
Last month, a notorious rhino poacher was arrested in Kathmandu with twelve rhino toenails in his possession.
Use of illegal rhino horn
At the root of this killing spree is the continued use of illegal rhino horn in traditional Chinese medicine, which is still sought after in both China and Vietnam. It also cannot be overlooked that corrupt factions within South Africa's own wildlife conservation community have shared responsibility for fueling the country's rhino crisis.
However, rhino horn has been rigorously analyzed and actually contains no medical properties whatsoever. (Read the entire article at Busting the Rhino Horn Myth with Science.)
How to help
You can help raise awareness about the rhino crisis by making a personal commitment to educate others about the illegal trade in rhino horn and debunking the myths about rhino horn.
---
Image: istockphoto.com