Exciting news about rhinos in Nepal!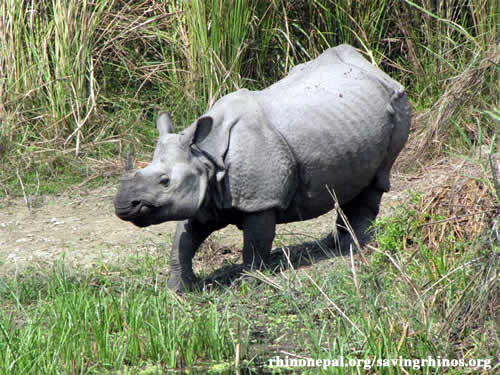 It's official: Nepal's population of greater one-horned rhinos has increased to 534. The census was conducted earlier this month, and revealed an increase of 99 rhinos since the last count in 2008.
Chitwan National Park was found to have 503 rhinos, while 24 reside in Bardia National Park, and Shukla Phanta Wildlife Reserve holds seven of the precious pachyderms.
Reporters from The Himalayan who attended a press conference held at Chitwan National Park said that Dr. Shanta Raj Jnawali (National Trust for Nature Conservation) praised the country's improved efforts to protect rhinos and manage their habitat.
The census was conducted by the Department of National Parks and Wildlife Conservation, with the technical and financial support from the National Trust for Nature Conservation and WWF-Nepal. A team of 50 elephants and 170 people carried out the Chitwan National Park rhino count, and 15 elephants and 30 people tallied rhinos in Bardia National Park.
Greater one-horned rhinos
One of the three Asian rhino species, greater one-horned rhinos (Rhinoceros unicornis) were once widespread throughout the northern floodplains and nearby foothills of the Indian sub-continent between Indo-Myanmar border in the east, and Sindh River basin, Pakistan in the west.
Today, the remaining 2,949 (includes the new census) greater one-horned rhinos are found only in a few protected areas in northeastern India and lowland Nepal.
Rhino horn traders arrested
So far this month, three rhino horn traders and a well-known rhino poacher were arrested by Nepalese authorities.
The suspects were handed over to Nepal's forest department, which has a track record of administering tough penalties for rhino crimes.
In May 2010, Chitwan National Park officials handed out prison sentences to 16 rhino poachers. Three received ten years in jail, one received 14 years, and the remaining twelve will spend 15 years in prison.
Notorious rhino killing gang arrested
Five people suspected of killing at least six – and possibly seven – rhinos over the past year in Chitwan National Park were arrested in February.
Also in February, a rhino killer was shot dead by a joint patrol team of Bardia National Park and the Nepal Army after the poachers opened fire on the patrol unit.
Nepal has already lost one rhino to the illegal rhino horn trade in 2011. The tragedy occurred during the first week of January in Chitwan National Park.
Traditional medicine myths continue to threaten rhinos
Although the greater one-horned rhino population is steadily increasing, these rhinos remain under threat of being killed for their horn.
Despite the fact that extensive scientific analysis has confirmed that rhino horn has no medicinal value, myths and superstitions about rhino horn persist throughout China and Vietnam, where rhino horn is considered a key ingredient of Traditional Chinese Medicine.
How to help
To learn more about our efforts to help support public awareness activities in Nepal, check out Update from Nepal: A Successful Year of Raising Public Awareness About Rhino Conservation.
We appreciate your help in educating others through sharing our articles, and for your continued support through rhino t-shirt sales.
---
Photo courtesy of Suman Bhattarai, Partnership for Rhino Conservation (PARC/Nepal)