South Africa continues to lose its precious pachyderms.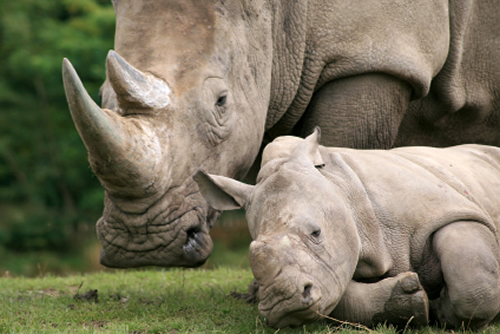 The demand for illegal rhino horn reportedly claimed the lives of another three rhinos, including one calf, earlier this week in South Africa's famed Kruger National Park. Gunshots were heard and rangers went to investigate. Tragically, it was too late: The poachers were already sawing the horns off one of the rhinos.
An exchange of gunfire followed, and the two poachers were killed.
According to Eyewitness News, 130 of South Africa's iconic rhinos have been murdered in 2011.
The latest figures show just over 130 rhino were killed across the country in less than four months, while 72 suspects were arrested, 13 of whom were killed and six wounded.
This troubling figure already represents nearly 40 percent of 2010's rhino death toll.
Four arrested by SANDF
Just days ago, four Mozambican nationals were arrested in Kruger National Park by the South African National Defence Force (SANDF). The suspects were in possession of the typical tools used by rhino poachers: A hunting rifle, cell phones, binoculars, and an axe.
The SANDF was deployed this month to protect the international border between the Kruger National Park and Mozambique, which was identified as a deadly hotspot for rhino killings.
Groenewald's bail reduced
Meanwhile, alleged ringleader of a notorious South African rhino horn syndicate, Dawie Groenewald, is not only out on bail – his bail amount was recently reduced from R 1 million (USD $147,065) to R 100,000 (USD $14,705) by the Musina magistrate's court in Limpopo.
The rhino horn syndicate case involving game farmer Groenewald, along with at least ten other suspects including veterinarians Karel Toet and Manie du Plessis, is expected to resume in September 2011.
Among the litany of charges are assault, fraud, corruption, malicious damage to property, illegal possession of firearms and ammunition, and contravention of the National Environmental Biodiversity Act.
To see a list of the suspects and read more about Groenewald's previous brushes with the law, check out South African 'Groenewald Gang' Returns to Court in April for Killing Rhinos, Dealing in Rhino Horn.
To read more about the connection between unscrupulous members of South Africa's legal rhino trade industry and the illegal rhino horn trade, check out Are 'Insiders' Intentionally Fueling the Demand for Illegal Rhino Horn?.
Sharp contrasts
In sharp contrast to the "Groenewald gang" case, less affluent criminals at the lower levels of the rhino poaching operation appear to receive harsher treatment by the South African judicial system.
Earlier this week, three Mozambicans appeared in the Phalaborwa Magistrate's Court. Million Chauke, Juga Chauke and Raul Shirindz were initially arrested in 2009, for involvement with rhino-related crimes and will now remain in custody until their July 5th court date.
Last month, the Nelspruit Regional Court sentenced three Mozambican citizens to prison. Renaldo Franchesco Masiki and Elvis Mdaka were sentenced to nine years, and Joao Sendelani Malangute received five years. Masiki and Mdaka were also found guilty of possessing illegal fire arms and ammunition.
In June 2010, the Kempton Park Magistrate's Court sentenced Vietnamese citizen Xuan Hoang to ten years in prison for attempting to smuggle rhino horns from South African to Vietnam.
Is there a pattern here? Dr. Paula Kahumbu, Executive Director of WildlifeDirect, does not mince words on this contentious topic. Check out Dr. Kahumbu's article Rhino slaughter in South Africa is driven by educated, rich, white people.
Continued use of illegal rhino horn in traditional Chinese medicine
At the root of this killing spree is the continued use of illegal rhino horn in traditional Chinese medicine, which is still sought after in both China and Vietnam.
However, rhino horn has been rigorously analyzed and actually contains no medical properties whatsoever. (Read the entire article at Busting the Rhino Horn Myth with Science.)
How to help
You can help raise awareness about the rhino crisis by making a personal commitment to educate others about the illegal trade in rhino horn and debunking the myths about rhino horn.
---
Image: istockphoto.com